We want to help by offering supplemental materials for online and at home learning with Usborne Books & More!
With this pandemic still underway, many parents are facing the hard decision of whether or not they should send their child back to a brick and mortar school. Whatever you choose, heading to a physical building or learning from home, we know weighing the pros and cons has not been an easy thing to do!
On the flip side, many of you are homeschool veterans and have led your children in learning for a number of years. This post if for you, too!
Create a Unique Learning Experience
If you have chosen to have your kids work from home, they are either following along with a public school teacher or you have planned to teach them yourself.
There might be lessons that you realize they already know. You have the choice to review it and move on, or perhaps you might consider offering them some enrichment in this area. How can you challenge their thinking with this skill?
Or, maybe you find a section that they struggle to understand. You can't move on just yet, so you need something else to remediate this lesson. You will want to grab another resource (I have some suggestions below!) and work through it together until they feel more confident with the new concept.
This is the beauty of working with your child as they learn. It allows you to create a unique experience for them.
*We use affiliate links to share products with you. If you use the link to make a purchase, the cost of the book doesn't go up for you. However, we will receive a commission and we do appreciate your support.
Resources to Support You and Your Family
One of my greatest joys in life is creating lists of book recommendations for friends! The following lists have been curated with age appropriate development in mind. You will find books that will offer support in math, reading, science, social studies, and handwriting.
Find the section that is suitable for your child. This could mean they are on level, perhaps they are more advanced for their age, or maybe they need remediation at a prior grade level.
Each hyperlink has 20-30 recommended books on the list. Below, we have provided a brief summary of what you might find for each one. While visiting the store, you can select a book that interests you and read more about it. You will find pictures of the inside of the book, a summary, and reviews from purchasers.
The list I have provided is simply to give you an idea of what is available. However, there are over 2,000 other great choices in the bookstore. Feel free to explore!
If you have any questions about books and their appropriateness, please feel free to contact us and ask!
Lists of Recommended Usborne Books to Use For At Home Learning
This list offers an array of board books, including touch and feel, lift the flap, first word books, and number recognition.
These books are very interactive. Babies and young children love to read them again and again. Don't worry, you will too!
In this list you will find books that help to teach phonics, addition and subtraction, money, geography, and some great stories like Aesop's fables.
For this age level, you will focus on the solar system in science, geometry and measurement, as well as multiplying and dividing in math, Greek myths, and some great classics like Black Beauty. There are books that help students to learn about the capitals, as well.
Once students reach middle school they will be learning about world history, government, designing websites and coding, advanced writing, and advancing in math concepts. There are also some great classic books available, including some written as graphic novels.
With our oldest grade school learners, you can find more classics, journals with excellent prompts, books focused on business and economics. There are also illustrated science and math books available.
Take Time to Read Together
One of the best ways to support a child's learning is to spend time reading with them. It's the number one activity we suggest in our post on Inspirational Reading Activities. Find out why by reading the article!
Overall, it's important that you create a culture of reading. This will help them to become readers, which will lead to them becoming life long learners.
And don't stop reading with them once they become independent. Even your high school child deserves this time with you! For every age level, reading aloud helps to increase vocabulary, increase reading comprehension, instills a love for reading, and so much more.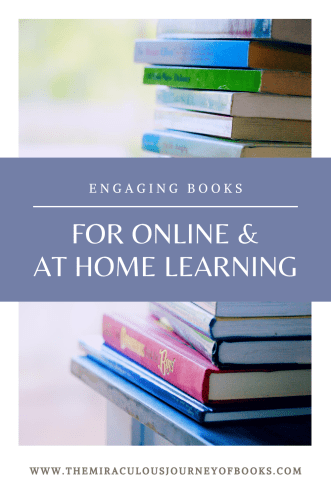 Best of luck this year! With a little planning and intentional time reading with your child, they will excel. It is our hope that your at home learning time using Usborne Books and More will help to support your child's learning. This will be a challenging, but fantastic year. It will be worth it!