Fairy Tales are magical. That's what we love about a story; something that draws us in and allows us to escape reality. When we're little, these stories excite our creative minds and we retell them in our make-believe play. Offer your kids a fairy tale, and they are likely to find joy in reading.
Fairy tales are children's stories that take place in fantastical lands far, far away. The characters can include fairies, of course, but may also have witches, dwarfs, trolls, or animals that talk. They offer a world of creative opportunity!
*We use affiliate links to share products with you. If you use the link to make a purchase, the cost of the book doesn't go up for you. However, we will receive a commission and we do appreciate your support.
Teaching Opportunities in Fairy Tales
Fairy tales are derived from countries all around the world. I especially like to read fairy tales in my classroom when introducing my students to the traditions of other countries.
It's informative to study the pictures, the language that is used, and even compare the more realistic events to what might normally occur in our country.
Traditional Fairy Tales
If you prefer traditional fairy tales, Usborne Books & More has a great collection of ten well known stories in their Illustrated Fairy Tales. You will find enchantments, princesses, prince charming, and magical beasts! They have pulled their stories from the Brothers Grimm, Hans Christian Anderson, and several others. (This book is also available in Spanish.)
Non-traditional Fairy Tales
If your children are familiar with traditional fairy tales (thank you, Disney), you should consider reading a retelling of the story from a different culture. Many places around the world tell the same tale, but they incorporate some of their own traditions and language into the tale.
This makes fairy tales a great tool to use because students can relate to the familiar story, and easily contrast the ideas that are different from what they know. That combination of a familiar text and unfamiliar one helps to build upon their confidence, but also challenges them to learn something new.
Here are a few fairy tales to help guide your discussion: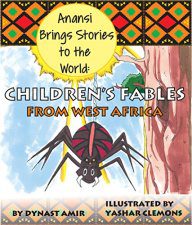 Trickster tales staring Anansi the Spider are a great way to introduce your children to morals in a story, as well as narrators. The West African storyteller began with the Ashanti people of Ghana. Anansi is thought to be the wise creator of the world and he takes the form of a spider.
These stories are fun to read because of the constant mischief the spider finds himself in. You can discuss learning about consequences of making a bad choice, as Anansi often does.
There are also many elements of West African culture that can be introduced to children, including the tradition of telling these stories.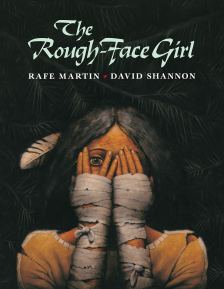 The Rough-Face Girl is written by Rafe Martin and is a retelling of the Cinderella story set in the village of the Algonquin Native Americans. However, the Cinderella of this story has been scarred by the fire that her two sister's force her to tend.
The ungrateful, bossy sisters desire to marry the mysterious being who lives in their village. They are turned away because they are unable to prove that they can see him. The Rough-Face Girl is able to share about the beautiful, natural ways that she sees the Invisible Being. He chooses her and, as a reader, we clearly see that beauty is not from our outward appearance; it comes from within.
The illustrations by David Shannon are gorgeous and give a clear depiction of the way this Native American tribe lives, including their dress and their love and respect for nature. The pictures are very different from what we see in Shannon's book No David! Read more about his illustrations in our book review of How I Became a Pirate.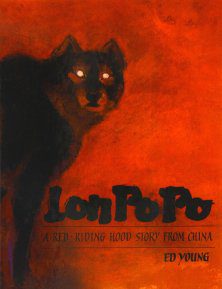 Lon Po Po is the Chinese retelling of Little Red Riding Hood written by Ed Young. In the story, a wolf disguised as a grandmother visits three young girls who are left home alone. Though cunning, the wolf is unable to outsmart the three girls. They cleverly lead him into a trap that takes his life and saves their own.
Children are introduced to some of the Chinese culture through the girls' names, as well as the language used in reference to the wolf (lon) and their grandmother (po po). There is also a Ginko tree outside their home where they set their trap, which is native to the country. The illustrations also show traditional clothing, simple styles in their house, and some of the area surrounding their home.
The illustrations by Ed Young earned a Cladecott Medal. They are darkly colored to pair well with this darker version of the story compared to what we know as Americans. I also like how many of the pages show the story in three panels, which is a common way to display images in Chinese art.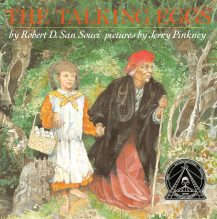 This magical story tells of the great reward found in showing kindness even in the most unlikely circumstances.
It is based in Louisiana, which is a great way to learn about the Creole culture and way of life. Robert D. San Souci clearly shows the commonly used language in his writing style.
Young Blanche is treated cruelly by her sister Rose, but she is loving and respectful to her regardless. One day Blanche comes across a strange old lady and she obediently does everything the woman asks of her. In return, she is blessed with great treasures from an unlikely source: a chicken house full of talking eggs.
The illustrations by Jerry Pinkney are gorgeous, of course. I hope you are familiar with his many children's books (over 75!) and their detailed water color.
The ancient story of "The Golem of Prague" has taken on many forms and no one knows its exact start. It is said that the Golem was a creature created by Chief Rabbi Loew who was living in Prague in the late 16th century. The word golem means embryonic or incomplete substance, and the rabbi's goal in giving life to this clay form was to protect the oppressed Jews of the Prague ghetto from being massacred. There are many lessons of culture and history here!
The book, Golem by David Wisniewski, won a Caldecott medal. Cut paper was used to create the illustrations. They beautifully show some of the city of Prague's well-known Gothic architecture in their cathedrals. It is also a great retelling of the story. Or, listen to an audio version on StoryNory.com if you are interested.
This tale forces you to consider the consequences of creating something so powerful that it is beyond human control.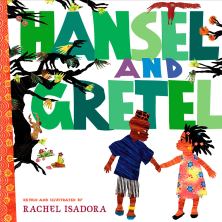 If you are looking for a classic retelling of the Brothers Grimm fairy tale, you should grab the book that is written by Rika Lesser. It takes place in Germany and includes all the nostalgic parts that you likely remember. This book has beautiful illustrations and was a Caldecott Medal nominee.
I also really like Caldecott Honor winner Rachel Isadora's version (pictured) that is colorfully illustrated, and set in the lush jungles of Africa.
The classic story of the Princess and the Pea is retold in Susan Middleton Elya's book La Princesa and the Pea.
This particular story takes place in Peru and uses Spanish words throughout the book. It would be a great text to not only introduce culture, but also context clues in order to figure out the meaning of the unknown Spanish words.
I really enjoy the colors used in the artwork. They offer a great opportunity to talk about the clothes, the homes, and even the animals you might find in this South American country.
An excellent way to break away from the classic tales of a damsel in distress being rescued by her prince charming, would be to check out Forgotten Fairy Tales of Brave and Brilliant Girls. This collection includes eight girls who, after displaying their heroism, continue to have adventures.
Although the love story you might expect is not present in these tales, good still conquers evil and there is a happy ending. These stories are perfect bedtime reads for your little ones that you wish to inspire with strength and leadership skills.
These stories would still serve as great tools for teaching comparing and contrasting. Plus, they have a more modern moral!
A great way to introduce the culture of Greece is to share their ancient myths with your children. Illustrated Stories from the Greek Myths is a book that includes all of your favorite heroes from the classic tales you are likely most familiar with.
This particular book is illustrated to help guide your discussion of the Ancient Greek culture and way of life. It also includes a guide to the different gods.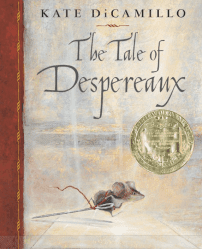 This book is a tale of the underdog. Despereaux Tilling is a small mouse with unusual habits. His family is disappointed in him because he does not enjoy the same things they like, and he's in love with a human named Pea. It is well known that humans are despised by the mouse community!
I love this book because of the sweet story-telling style Kate DiCamillo uses. You can't help but to fall in love with Despereaux and cheer him along in reaching his goals. It also encouraging to see his love and care for others.
This fairy tale will help you to facilitate great discussions with your kids about believing in yourself and standing up for what is right. There is also a lot of detail about French culture, including their delectable cuisine and language. There are French words sprinkled throughout the story. Have fun pronouncing them and also trying to figure out their meaning using the context clues.
Fairy Tales for Adults
As I was researching different tales for this post, I came across several adult versions of these fairy tales. Here are a few that I would recommend:
Anansi Boys by Neil Gaiman (Most of his books would fit under the "fairy tale" genre.)
The Amazing Adventures of Kavalier & Clay by Michael Chabon. This book won the pulitzer in 2001 and loosley refers to the Golem tales.
The Thirteenth Tale by Diane Setterfield