When Grandma Gives You a Lemon Tree is about a little girl who receives an unexpected gift of…you guessed it, a lemon tree. Initially, the little girl is frustrated because she had carefully crafted a list of presents that she really wanted, and this was not on it! She reluctantly decides to put the time into caring for the plant, and the whole experience blooms into much more than she originally imagined.
She learns to enjoy patience, the beauty of the outdoors, and good community. I especially love that in the girl's frustration, she is still polite to her grandmother and shows that she is thankful for the gift. By the end, because of her positive attitude, she is genuinely appreciative.
Age Level
I would recommend this book for kids ages 3 to 7 years old.
Illustrations
Teaching Opportunities
What do you do when you have a received a gift that you didn't want?
Why do you think the young girl's grandmother gave her a lemon tree? It wasn't on the girl's wish list…
How would you describe the girl's attitude from the beginning to the end of the story? Did she change her opinion of the lemon tree?
Why is it important to be polite to others? How did the young girl show this characteristic?

In what ways have you been shown that you are gracious for something you received?

What do you think the little girl learned from this experience?

Discuss putting down electronics and enjoying nature for a little while. There is so much to appreciate!

Use the recipe to make your own lemonade!
Other Books by Jamie L.B. Deenihan
When Grandpa Gives You a Toolbox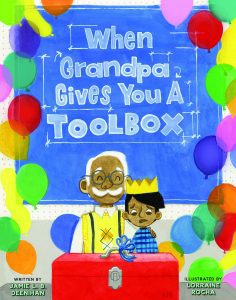 Thanks for reading our book review of When Grandma Gives You a Lemon Tree. You can find other reviews in our Library.
*We use affiliate links to share products with you. If you use the link to make a purchase, the cost of the book doesn't go up for you. However, we will receive a commission and we do appreciate your support.