There's a new year ahead and that always brings a thrill of excitement. I love the smell of freshly sharpened pencils, the bright colors in a new pack of crayons, and the unlimited possibilities for decorating a brand new binder! Add to that, a great list of 3rd – 5th grade books for back to school.
With this newness, we love to get some good books into the hands of our children. We have created a list of books that take place in schools, many of them specifically about the first days of the new year. These books are meant to encourage and challenge our students to dare greatly! Here is our list for some of the best 3rd – 5th grade back to school books available:
*We use affiliate links to share products with you. If you use the link to make a purchase, the cost of the book doesn't go up for you. However, we will receive a commission and we do appreciate your support.
Books in a Series for Back to School
At the start of a school year, I always choose a read-aloud that is the first book in a series. Reading the first book introduces kids to the characters and also familiarizes them to a setting. Once they have fallen in love with those characters and the world they live in, they can confidently tackle other books in the series and focus on other aspects of comprehending the story. The majority of students in my class who love books can tell me of a series they have read from start to finish! Here are some of my favorite 3rd through 5th grade series books for back to school:
A Series of Unfortunate Events by Lemony Snicket
The Mysterious Benedict Society by Trenton Lee Stewart
The Chronicles of Narnia by CS Lewis
Wayside School by Louis Sachar
The Penderwicks by Jeanne Birdsal
Wings of Fire by Tui T. Sutherland
A Series of Unfortunate Events by Lemony Snicket
Green Ember by S.D. Smith
Incorrigible Children of Ashton Place by Maryrose Wood
The following 3rd – 5th grade books for back to school take place in a school and are great for inspiring excitement for the new school year! In the comments, please let me know which ones you've read, which are your favorites, and if you'd add any books to this list.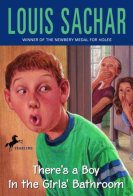 My personal preference for starting the fifth grade year off right is to read There's a Boy in the Girls' Bathroom. (You might know the author because of the more popular books that he has written: Holes and Sideways Stories from Wayside Schools). This is a hysterical book about a notorious bully turned kind friend that my students reference all year long. It is the perfect book to teach the skill of character development because Bradley changes so drastically from the beginning to the end of the story.
Bradley could care less what others think of him. He is a pathological liar, he intentionally fails tests, and then cuts them up into tiny pieces. One day, a new student joins his class and befriends Bradley. With the help of the guidance counselor, Bradley learns what it means to be a good friend.
Along with character traits, this book also leads to great discussions about symbolism. Bradley has a collection of animal figurines that he talks to, and they represent his true feelings.
Listen. Just contact me if you plan to read this book with your kids. I'd love to talk to you about it.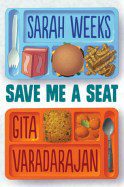 This book is creatively told from two different points of view. Every other chapter is narrated by either Ravi or Joe. Both boys are extremely different on the outside, but it turns out that they have a lot more in common than you would expect.
Joe has suddenly become lonely after his best friend has moved away. He is starting a new school year without him. Ravi has recently moved to America from India with his family and he, too, feels it is difficult to fit in with these unfamiliar surroundings.
The thing I really like about Ravi is through his story you learn a lot about Indian culture including foods, the language (he hilariously shares a lot about people mispronouncing his name), and their typical family dynamics. I also enjoyed Ravi's arrogance, or maybe you could call it his confidence, because he felt sure he was the smartest kid around. Several things happen that help to humble him. If you listen to the audiobook, his chapters are read by Vikas Adam who uses an accent fitting to Ravi's native language.
In Save Me a Seat, Ravi and Joe deal with bullies and insecurities similar to many kids their age. They are able to find commonalities through these struggles and fill the void that each is missing.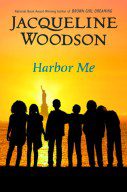 Another great read that will illicit excellent discussions from your children is Harbor Me by Jacqueline Woodson. This story is about a group of fifth graders dealing with the difficulties of immigration, race, incarceration, death, and learning how to trust others through it all. These are heavy topics that are all current issues, and Woodson does an excellent job presenting them to young people.
I would normally recommend these type of themes for older students, but since the main characters are fifth graders, I believe it would mostly appeal to that age group and your mature fourth graders.
The story is about a group of six students who live in New York City. They are given the chance to meet each week and talk without any adults facilitating the discussion. Through the time that they spend together they learn they are not alone in their troubles and it helps to build their confidence. They become strong and brave.
Jacqueline Woodson's prose is something I have always enjoyed. She is a very beautiful writer, and this book is a great example of the way each of us can show kindness. We can even "harbor" one another in difficult times.
Woodson has authored many other wonderful books including, Brown Girl Dreaming, her autobiography that we have reviewed in our library.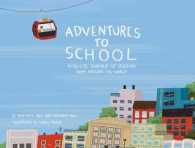 I'm so glad that I came across this book while compiling this list of the best books about heading back to school. It was Isabel Munoz's illustrations that drew me to it first. She is a fantastic painter, and has amassed quite a collection of great works.
Working alongside Miranda Paul, the two have created a beautiful work full of interesting facts about children around the world and how they get to school.
I especially love that this Adventures to School combines fiction and non-fiction elements. On each two page spread, there is a first person rendering of their experience going to school, as well as a sidebar with non-fiction information about the country and the typical experience of children as they journey to school each day.
This book is fun for kids to compare and contrast their own experiences. It will also help to open their eyes to the great privilege we have of receiving an education!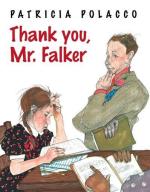 This book is perfect for back to school because of its message to persevere. Patricia Polacco tells her own story when she was a young girl who struggled to read. She believed that she had hidden this well until her teacher, Mr. Falker, confronted her one day.
Feeling defeated, she gave in and received his help. They worked diligently to teach her how to read, and her confidence slowly grew.
I always cry while reading the epilogue. This is where she reveals to readers that this is her personal story. She also shares that as an adult she was able to see Mr. Falker again and thank him for his patience in teaching her. When asked what she did for a living she could proudly respond that she writes books for children.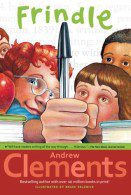 Frindle is a story about a young boy named Nick is a constant troublemaker. He has invented a new word that people all over the country are beginning to use. It drives his teacher nuts because she is a stickler for using the English language properly.
They battle it out over whether or not a pen should be called a frindle. This book inspires a lot of creativity and fun for young kids. It's a great one to read at the beginning of the year.
Maybe your students or children can think of a new word that they can reference on a regular basis throughout the school year. Such an idea would surely help make this unique year positively stick out in their memory for many years to come.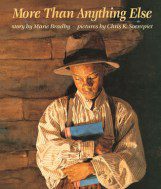 This book is the retelling of Booker T. Washington learning to read. It is inspiring for kids at the start of the year as they learn that not everyone has this great privilege that they are afforded. Through lots of hard work, this young boy perseveres and finds the help he needs to learn to read.
Young Booker works with his father and brother at the saltworks. They toil all day long and he feels unsatisfied from this work. After seeing someone read aloud from a newspaper, he is inspired and longs to do the same thing. He finds the man and they work together to help Booker learn to read.
I recently read this book and I have mixed feelings about it. There were a lot of things that I loved, but I do want to share that there were a couple of things that gave me pause.
The Boy at the Back of the Class is about a student who is a refugee from Syria and recently traveled to England. He doesn't speak English, so he struggles to communicate with other students. However, there's a group of very kind students who become his friend and, after learning his story, do some incredible things as activists in the refugee crisis.
At one point, they attempt to deliver a letter to the queen during a changing of the guard ceremony at Buckingham Palace. Their great feat is noted by the media and they are given a platform to share their concern in helping their friend find his family, as well as a safe place to live.
I enjoyed that the story was set in England. It was exciting to hear about monuments and characteristics unique to this country. I also like that it introduces a sensitive subject to kids in regards to refugees. This can be a weighty topic, but it is easier to take in because of the caring adults leading the kids.
The main thing I didn't like was the voice of the main character. She was extremely naive and frequently misunderstood simple phrases. I felt it took away from the story. An example of this is she previously learned all about WWI in school, but had never heard of WWII. This doesn't seem feasible.
Overall, I think this would be a great read for your child. It's a good resource for learning about a great country, as well as a sensitive topic.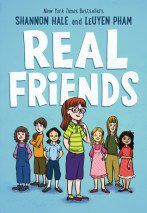 Real Friends is a graphic novel that Shannon Hale has written about her own experience in finding trustworthy friends while she was in elementary school. The story is very relatable as many students battle with the ideas presented in this book.
From Kindergarten through fifth grade, Shannon tells about her experience trying to understand the popular kids, as well as a few tangles with a bully who spreads rumors. The big idea she grapples with is why wouldn't other kids want to be friends with someone who is nice? In trying to understand this problem, Shannon shares about her Mormon faith that helps her to get through the trying times.
This book is the start of a two-part series that you might consider checking out if your child loves the first one!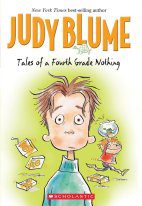 This Judy Blume classic is a must read for students once they reach upper-elementary school age. There is nothing more hysterical than the antics of a little brother named Fudge. This is the first in a series of books. So, if your kiddos enjoy it you should definitely look into the other books. Keep them reading!
In this first book of the series, Peter is extremely frustrated with his three year-old brother who seems to get away with everything. Jude Blume tells the story in a way that you can't help but laugh, all the while understanding Peter's frustration.
While the story doesn't take place at school, many kids can relate to the sibling rivalry that the two share, especially as a 4th grader trying their best to play things cool.
I hope this list of 3rd – 5th grade books for back to school encourages you on your adventures these first few weeks of school. There is nothing like a good book to help settle your nerves and encourage you to persevere! This will be a year unlike any we have experienced!
Good luck to everyone on their first days! Work hard and remain positive. You will do great things!
Be sure to check out our other books for back to school reading lists:
Kindergarten, 1st, or 2nd grade
6th – 8th Grade