Sharing great children's books about space is one of the best ways for kids to learn about the final frontier. There is something so exciting about the technology we have developed that has catapulted man out of our atmosphere.
You are likely here because your child has a love of all things outer space, or maybe you are teaching a unit on space with your students. Exploring and having the opportunity to learn more about a place that few people have gone has inspired many kids to ask great questions, growing up to become scientists seeking the answers.
After reading this blog post you will find ways to inspire your kids in their love for space, and you will also find a list of fantastic books to share with your budding scientist. Use this list to shop for your favorites and then cozy up in your reading nook to share the books with your kids.
*I use affiliate links to share products with you. If you use the link to make a purchase, the cost of the book doesn't go up for you. However, I will receive a commission and I do appreciate your support.
How do you teach kids about space?
Typically the best way to learn about anything is to offer kids hands-on experiences. This becomes a little tricky when it comes to learning about space since we can't just jump into a rocket and shoot ourselves into the vast expanse of our solar system.
However, models, books, and using our observation skills from Earth is an ideal way to learn more. Of course, I have a great list of books to share with you and also a fantastic model from SMARTLab Toys that will be helpful for your curious learner.
What grade do kids learn about space?
Kids begin to learn some basic concepts about space in elementary school. I remember teaching about the phases of the moon with my third, fourth, and fifth graders. They learned about the revolution and rotation of the Earth, Sun, and Moon system. We also studied the properties of each of the planets.
As kids progress through grades, the material becomes more complex as they grow older and they typically have the opportunity to take an astronomy class in high school.
How do you inspire kids to learn about space?
Some of my favorite ways to inspire kids with any topic is to expose them to it! When it comes to space, I would encourage you to visit a local planetarium.
If you live near a college, check to see if they have opportunities open to the public for people to use their observatory.
Our local college has a monthly astronomy night. They have a guest speaker (Once we heard an astronaut who told the most beautiful story of their time in space! The whole audience was so moved, there wasn't a dry eye in the place.), activities for kids, and a chance to look through an enormous 1 meter telescope inside of a domed observatory.
My family often watches rocket launches on our computer. A quick Google search will give you an idea of when the next rocket launch will take place and you can easily find a link to a live feed and share it with your family.
Another tried and true way to inspire your kids is to find a book that is suitable to their interest when it comes to space. Here are a list of my favorites for all ages!
The Best Children's Books About Space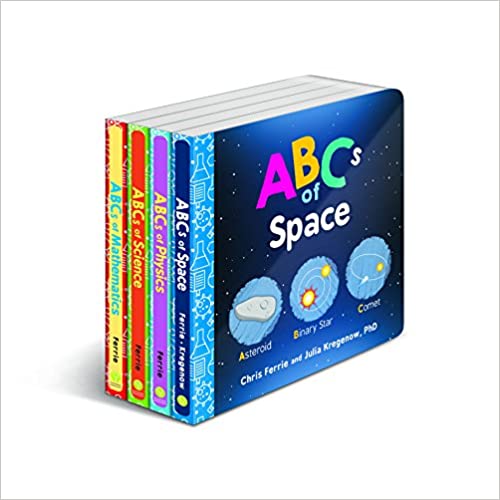 This set of four board books is a great way to introduce space vocabulary to your littlest readers. In this collection you will find the ABC's of Space, ABC's of Math, ABC's of Physics, and ABC's of Science.
For ages 1-3.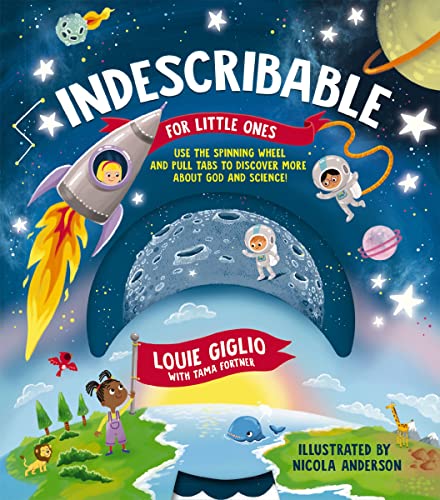 I have always enjoyed learning from Louie Giglio about the wonders of God's creation. He uses the Bible to teach kids about the indescribable wonders of our universe. It includes interactive features like pull tabs and spinning wheels. Indescribable for Little Ones is part of the Indescribable Kids series. Some of the other books in the series are appropriate for older kids.
For ages 1-4.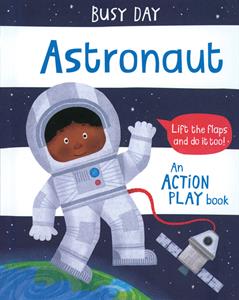 The Busy Day series from PaperPie is a fantastic way to introduce a large range of jobs to young kids. In Astronaut, you will walk through a a day in the life of an astronaut as she journeys to the space station and also rides in a moon buggy.
For ages 2-4.
This clever book, Sun!: One in a Billion is written as Sun's autobiography. It is full of kid-friendly facts and great illustrations!
For ages 2-8.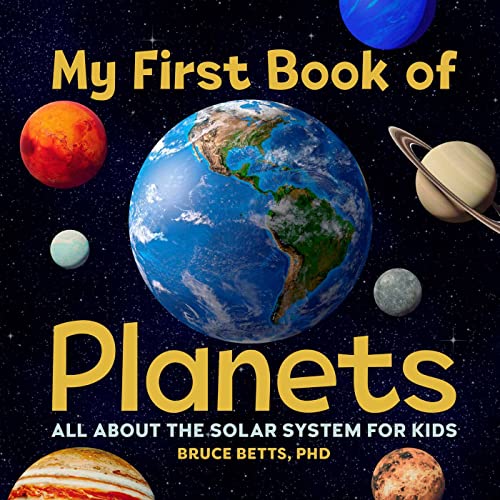 My First Book of Planets takes kids on an exploration of the solar system using vibrant images and interesting facts. They will get to see each planet up-close, introducing them to our incredible world.
For ages 3-6.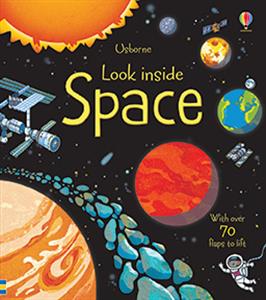 Look Inside Space is a lift-the-flap book that includes lots of facts and information about the moon, stars, and the tools we use to learn about planets that are so far away.
For ages 3+.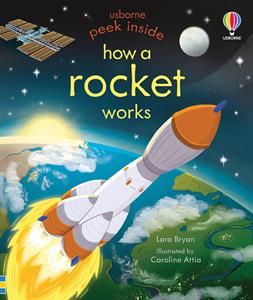 Peek Inside How a Rocket Works is one of those books that we have on repeat in our home. In this lift-the-flap book you follow three astronauts as they launch into space. Flaps show the parts of the rocket fall away as fuel is used up. Then the rocket docks to the International Space Station, works hard for several days, and finally returns to earth. It's a fascinating journey and gives you a great inside look at the whole process.
For ages 3+.

The Ultimate Book of Space takes kids on the journey the astronauts experience as they explore the vast area beyond our Earth. It is full of 40+ flaps and massive spreads that will captivate your young readers and answer all kinds of questions about space exploration.
For ages 4-7.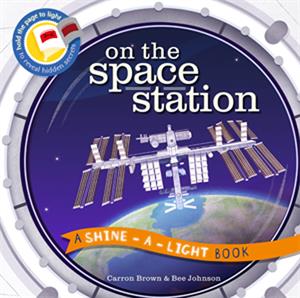 Learn about the ins and outs of the International Space Station in this Shine-a-Light book called On the Space Station. This magical book is read with a flashlight. When you shine the light behind each page, an image appears revealing interesting facts and information about astronauts work on the ISS.
For ages 4-8.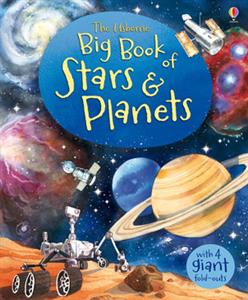 Full of giant fold-out pages and detailed illustrations, Big Book of Stars and Planets is a favorite for young kids who are interested in learning more about space.
For ages 4+.
Who Was Neil Armstrong? is part of a  biographical series of book that is perfect for elementary-aged kids. In this book you will learn about Neil Armstrong's journey of becoming the first man to walk on the moon.
For ages 7-10.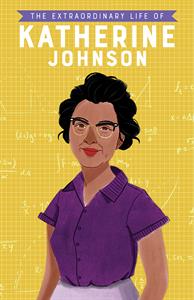 The Extraordinary Life series includes multiple biographies of some of our world's great leaders. Katherine Johnson was a young girl who loved numbers and became one of NASA's mathematicians who helped launch a man into space.
For ages 7-11.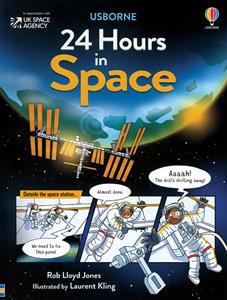 24 Hours in Space is a day-in-the-life book that has a comic book format. It walks you through a typical 24 hour period of life on the International Space Station. You'll get a look at some of the astronauts' science experiments, the foods they eat, and also take a space walk.
For ages 7+.
That's a Job? is a series for kids who have a particular interest and would love to know about some of the not-so-typical jobs that are available on that topic. No list of children's books about space would be complete without this gem! In I Like Space…what jobs are there? kids will learn about 25 space related jobs including space lawyers and space weather forecasters.
For ages 7+.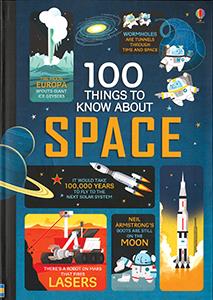 In 100 Things to Know About Space kids will facts about all aspects of space. This particular book is ideal for reluctant readers because they are able to skip around as they read instead of having to read the book cover-to-cover. It is filled with lots of pictures, graphs, and snippets of information to keep older kids engaged.
For ages 11+.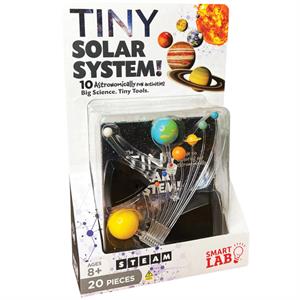 Tiny Solar System! is a miniature model of our solar system. It includes 20 pieces and a light-up Sun! There is also a separate model of the Earth and Moon to help kids learn about our unique system, demonstrating day and night, as well as the phases of the moon, our seasons, and an eclipse. Your kids will love all of the interactive activities and enjoy some creating some art, as well.
For ages 8+.
Children's Books About Space!
It is my hope that you have found some great children's books about space to inspire your readers' love for space. And I also hope that I was able to answer a few of your questions regarding introducing this great topic to them!
I would love to hear from you – Comment below and tell me about your child's favorite book about space. Did you see any on the list? Are there any other books you would add?