Children's book illustrators contribute an important element to a story and I am excited to share some of my favorites with you in this book list. After reading this post, you will feel creatively inspired to share books that include beautiful illustrations with your kids. You will learn how to carefully look at pictures in order to gain a better understanding of the story as a whole.
This post will probably be one that I frequently add to because I feel like I am often finding great new artists. I would also love to hear about your favorite illustrators in the comments!
This post also includes a list of books that feature my favorite children's book illustrators, including some Caldecott Medal winners and some iconic illustrators from our time.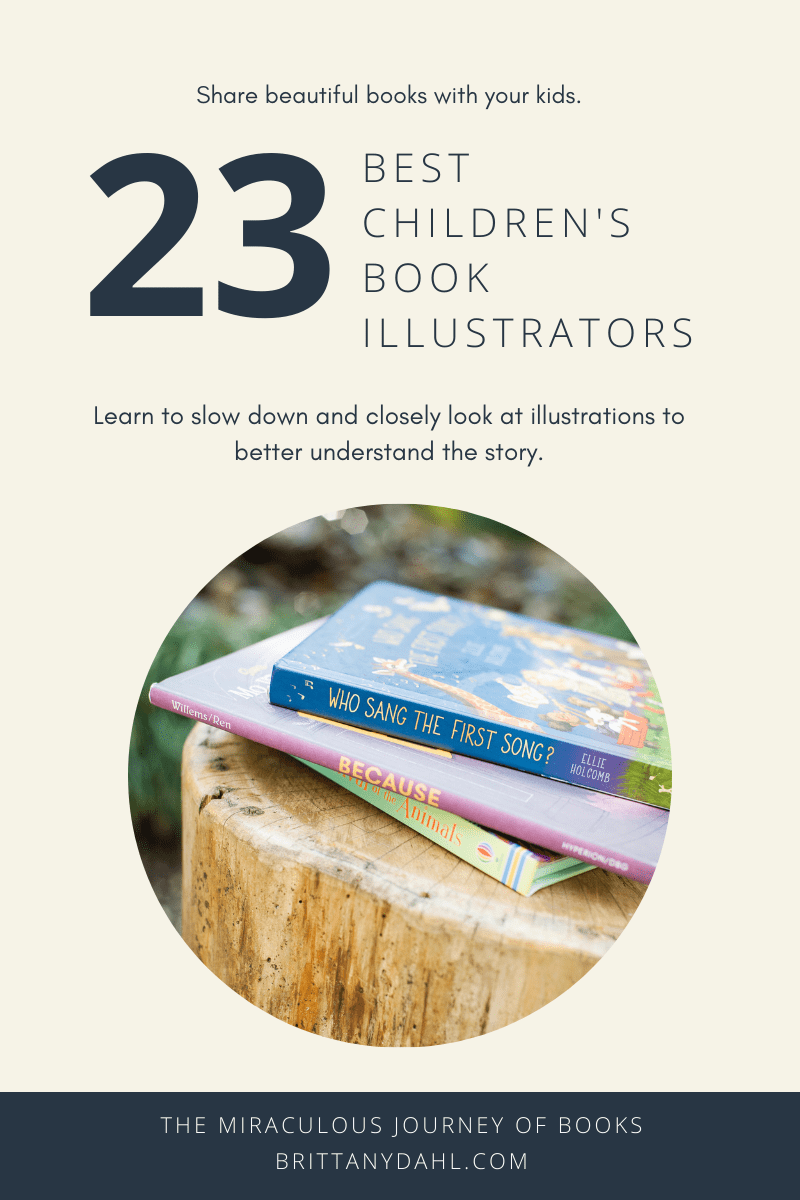 *I use affiliate links to share products with you. If you use the link to make a purchase, the cost of the book doesn't go up for you. However, I will receive a commission and I do appreciate your support.
What Makes a Good Children's Book Illustration?
It is important for kids to begin to appreciate art at an early age because it helps to:
cultivate curiosity,
allows them to use fantasy and imagination,
it helps kids put ideas from a story into context,
art often makes a story more accessible,
observing illustrations requires you to slow down while reading, which is an important skill in our digital culture
it requires a depth of engagement,
and an advanced level of understanding about a painting's context.
As you are reading, if you find that your child is employing any of the characteristics above, then you can confidently say that the illustrator's art is adding to the story. In his book, An Experiment in Criticism, CS Lewis says, "Good literature permits, invites, and compels good reading," and I believe the same is true for good art. If you and your child find inspiration in the art, if it draws you further into the story, then it is good.
The Benefit of Illustrations in Children's Books
One of the functions of illustrations is to help kids to engage in the story and to understand it more fully. Many stories, like graphic novels leave out details in the text and the information can only be gained by closely observing the pictures. In order to understand a story more fully, readers must use multi-modal learning to process what is being told. In other words, they have to use multiple senses to comprehend the story. This requires higher order thinking and is an important skill for all kids to learn!
Illustrations also require kids to slow down as they read. This is easier said than done in our high-tech, fast paced world, but I believe it's an important skill to practice. As you are reading with them, stop and ask questions about the illustrations. What else do they notice? How does it add to what the author is trying to say? If your child is younger, ask them what they see and make connections with familiar objects in the pictures.
Close Looking
We often practice "close reading" in classrooms, but it's also great to practice "close looking," with your child, as well. I learned this skill during a class called The Art of Reflection and Response Teacher Institute at the Museum of Art in DeLand, Florida. It was offered to teachers in all subject areas to help them incorporate creative thinking and art into their lessons.
Learning to "read" an illustration is similar to reading a book.
You have to decode symbols and determine what they can mean.
You will make inferences to better understand what is being said.
The observer's (or reader's) previous knowledge and experience affects their personal response.
Close looking requires you to give a thoughtful analysis of the artwork in order to make observations and connect with the piece more deeply. When you practice this well (and it might require repeated readings and close looks), you'll understand the form, craft, and meaning that the artist is sharing. Read through a book three times (this can be three separate days). During each reading, do the following:
First Look: Describe and Relate
Study the entire illustration and look closely at the details. Talk about all of the things that you see: lines, shapes, colors, the subjects.
Second Look: Analysis
Focus on how the art is organized. See if you can find relationships and organizational patterns. In other words, pay close attention to sizes, shapes, colors, textures, space and volumes. Is there anything repeated? Do you feel like something might be missing or could be added?
This is similar to what you would do in a second reading of a book. With a story, you would focus on how the text works. Discuss the author's craft (word choice, text features, etc.) and organizational patterns like text structure (cause and effect, compare and contrast, etc.)
Third Look: Interpretation
Try to identify what the artist is saying in their work. Make inferences and use details that aren't obvious in the illustration to support your idea. This type of interpretation forces observers to understand the artist's meaning. It also allows you to connect your previous knowledge and experience. However, if you're up for a challenge, try to open yourself up to the illustrator's point of view and try not to be swayed by your own experiences. Your interpretation should be more objective.
If you, as a parent, would like to learn more in depth about the benefits of art and to make it more accessible, I would recommend reading Art as Therapy by Alain de Botton and John Armstrong. This book will help to make it less intimidating and also give you tips to teach your child to interact with art in a more meaningful way.
Also, read the guest blog post written by my sister called "8 Simple Design Tips to Tell Your Family's Story."
The Best Children's Book Illustrators
The following is a list of books that are appropriate for kids of all ages. I would try out multiple options to share with your children. They will likely find some great inspiration after you enjoy these works together.

Eric Carle is an iconic children's book artist. His work is very distinct and easy to recognize. According to his website, "His artwork is created in collage technique, using hand-painted papers, which he cuts and layers to form bright and cheerful images." Plus, you will see lots of little additions to many of his books, which make them irresistible to kids.
The Very Hungry Caterpillar and also Brown Bear, Brown Bear, What Do You See? are two my family's personal favorites.
For ages 1-3
Who Sang the First Song?
Written by Ellie Holcomb & Illustrated by Kayla Harren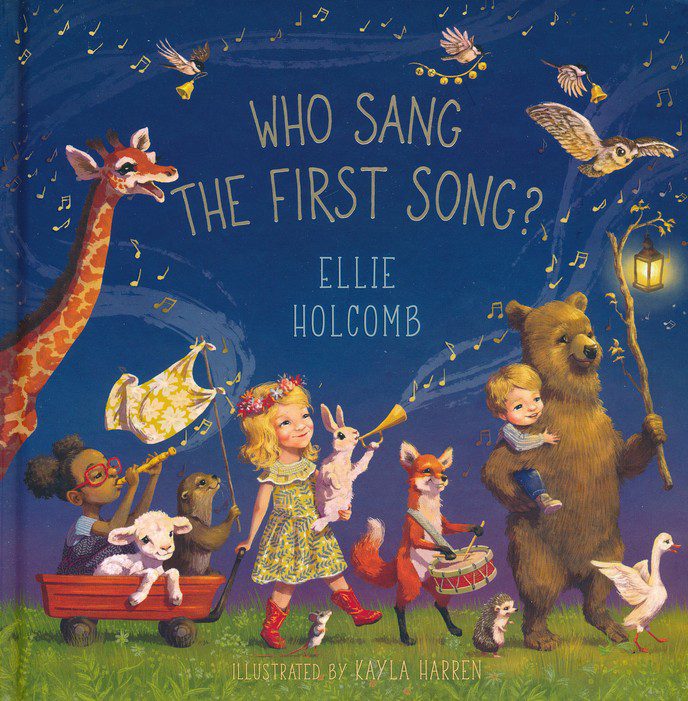 The book Who Sang the First Song? was given to my family as a gift from a close friend. I immediately fell in love with the story, as well as the gorgeous illustrations by Kayla Harren. She is a digital artist and each of her characters have very distinct personalities. You can just see the detail and feel that they are coming to life as you study each one. She incorporates a lot of movement into her pieces, especially in this particular book. You can practically hear the music playing as the animals and kids dance around!
You can also enjoy this book in song form by listening to author Ellie Holcomb's album called Sing: Creation Songs.
For ages 1-4.
Snowy Day
Written & Illustrated by Ezra Jack Keats
Ezra Jack Keats is a well known artist who tells the story of a young boy named Peter as he takes pleasure in the many joys of a first snowfall in The Snowy Day. His art is simple and full of bold colors. He uses collage and also incorporates gouache painting.
If you are interested in learning more about this story, as well as the work of Ezra Jack Keats, I would recommend reading the book, The Snowy Day and the Art of Ezra Jack Keats.
For ages 1-3.
The story of Max in Where the Wild Things Are is surprisingly short, but easy to be drawn into. Artist Maurice Sendak does a fantastic job using watercolor, as well as pen and colored pencil to draw readers into the story. Max is a young boy who gets sent to his room without dinner because of his misbehavior. While in his timeout, he ventures to a world where he becomes king of all wild things and begins a wild rumpus. A number of pages are only illustrations, which is fantastic because it forces readers to slow down and take in the story through the images. This book is a must for all home libraries.
For ages 1-5.
One of the things that makes The Tale of Peter Rabbit so special is its watercolor illustrations by Beatrix Potter. You might not expect something so soft and sweet for a mischievous young rabbit who constantly gets into Mr. McGregor's garden, but it fits perfectly for this classic. Since it was originally published in 1901 it has held a special place in our hearts.
You can also enjoy the board book version of The Tale of Peter Rabbit with young readers who are a little rough on books.
For ages 1-5.
Jerry Pinkney has long been one of my favorite children's book illustrators and I found it extremely appropriate that his wordless picture book, The Lion and the Mouse won the Caldecott Medal in 2010. The art in this book, which are brightly colored and seem to produce their own light, illuminates the relationship between two unlikely friends. The retelling of Aesop's fable in this children's book has quickly become a classic and it should be included in every family's home library.
All of Jerry Pinkney's books are beautiful! Read more about his book, The Talking Eggs in my post about Fairy Tales From Around the World.
For ages 2-5.
Madeline
Written & Illustrated by Ludwig Bemelmans
"In an old house in Paris all covered with vines, lived twelve little girls in two straight lines." This is the story of Madeline, a little girl who lives in a boarding school. Ludwig Bemelmans gives readers a look at his personal life in the books, which has become a beautiful classic. He uses gouache and ink to illustrate the stories and gives many young readers a look at France for the first time. I know for me personally, it is one of the main reasons I have always wanted to travel.
For ages 2-6.
Locomotive
Written & Illustrated by Brian Floca
Locomotive won the 2014 Caldecott Medal for it's incredible illustrations. Brian Floca helps readers to learn more about the history of the transcontinental railroad. He uses watercolor, ink, and acrylic paints to create his illustrations and draw readers into this historic time.
Another great aspect of the story is the shape of the text, along with changing font type and size. It makes you feel the rumble on the tracks, the blow of the whistle, and the excitement that the passengers experience as they take their first rides.
For ages 2-6.
Last Stop on Market Street
Written by Matt de la
Peña

 & Illustrated by Christian Robinson
The themes presented in Last Stop on Market Street are important for every child to learn: kindness, empathy, and gratefulness. The story is set in a busy city where a young boy rides with his grandmother on a bus. He observes the passengers closely and asks lots of questions about their differences.
Christian Robinson uses lots of geometric shapes in this brightly colored children's book. I don't think I'll look at a big city again without picturing some of these illustrations.
For ages 2-6.
The Adventures of Beekle: The Unimaginary Friend begins on an island far away where imaginary friends are born. He is constantly overlooked by children, so he takes matters into his own hands and sets out to the big city to pair himself with a friend.
I love how author and illustrator, Dan Santat creatively imagines the story of where imaginary friends come from. It takes something familiar to our society and stretches the boundaries a bit further. And I would say that his artwork does the same. His illustrations are whimsical and magical; drawing little ones in and helping them to think of their own adventures with an imaginary friend.
For ages 2-7.
Flotsam
Written & Illustrated by David Wiesner
David Wiesner is a master at telling stories through art. His wordless picture books are inspirational to kids who can't yet read, as well as older kids! I have used his books as a fifth grade teacher as writing prompts: students would tell the story that they see as they "read" through the book. Flotsam shows a boy who studies items that are washed ashore. One of his most-prized items is a camera that has been had the pleasure of photographing many other beach-goers throughout the years.
For ages 3-8.
I'm (almost) Always Kind
Written by Anna Milbourne & Illustrated by Åsa Gilland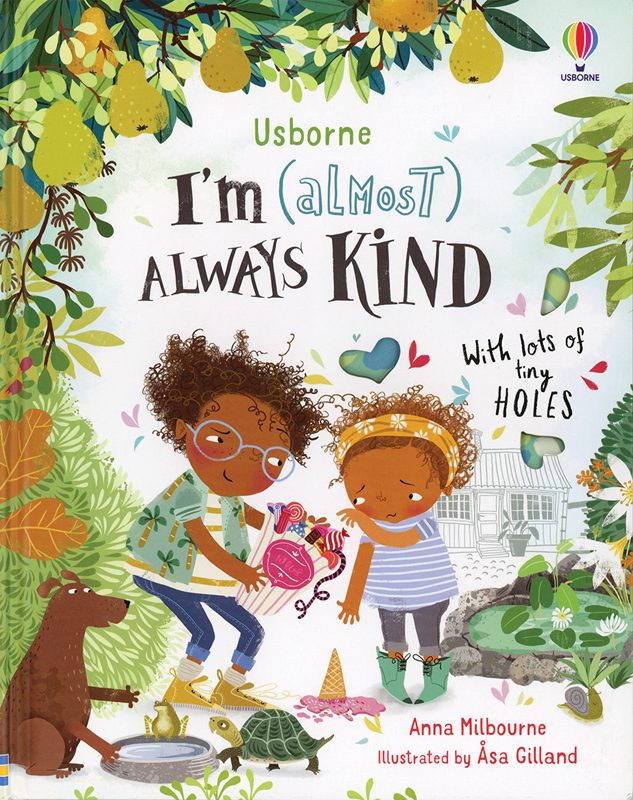 I believe that our children are never too young to begin hearing about the importance of being kind to others. Sharing the book, I'm (almost) Always Kind with my son has led to some many sweet conversations. I love that this story encourages readers to focus on other people's points of view. In the story, the oldest sister in this family begins to recognize that some of her actions have an unintended effect. She learns how to "walk in their shoes" in order to see that what she deemed to be kind might not be received the same way by others.
The busy illustrations are full of life and there is always more to see. One of the things that draws me to her work is the greenery and plants that she frequently uses. Gilland is especially influenced by Scandinavian and Indonesian folk artists. Also illustrated by Åsa Gilland is The Perfect Shelter. Read my full review.
For ages 3 and up.
Anno's Journey
Written & Illustrated by Mitsumasa Anno
Japanese artist, Mitsumasa Anno uses pen and ink, as well as watercolor to tell the stories of his characters. There is typically very few words, so readers are forced to rely on their observation skills to understand the story as a whole. Another great aspect of his work is that he likes to tie in math and science concepts, as well as optical illusions. You can easily see why he is often compared to M.C. Escher.
Anno's Journey is a book that walks you through the countryside and town of northern Europe. You'll love the puzzles and illusions that he incorporates into this story.
For ages 4-8.
The Wind in the Willows
Written by Kenneth Grahame & Illustrated by Inga Moore
My sister gifted The Wind in the Willows to my family shortly after my son was born. It has been a treasured addition to our home library and because the cover art is so beautiful, I have it on display in my son's reading nook. Inga Moore has a love for the English countryside that is evident in her work. She uses pencil, ink, watercolor, colored pencil and occasionally oil for a multi-media approach resulting in rich, complex art.
Reading this book is special because so many children's books have simple illustrations. Each page turns over a new surprise.
Rosa
Written by Nikki Giovanni & Illustrated by Bryan Collier
Bryan Collier has always been one of my favorite illustrators and I can't count the number of times I have visited his website to pick out artwork for my own home. African American history is often the subject of his work and I find myself reflecting on the importance of his subjects to our country's history. Collier combines the mediums of watercolor and collage to create his art.
Rosa, written by Nikki Giovanni, is an inspirational story about Rosa Parks' refusal to give up her bus seat and the determined movement that soon followed. Collier has illustrated numerous other children's book and he has won four Caldecott Honor awards.
For ages 4-8.
The Little Leaders series has become extremely popular recently, and for good reason. These inspirational books are biographies featuring some of our world's greatest leaders and they deserve to be shared widely. The author and illustrator has a background in film and she creates most of her work digitally. Harrison also illustrated Hair Love, which was written by Matthew A. Cherry.
For ages 4-9.
The Undefeated
Written by Kwame Alexander & Illustrated by Kadir Nelson
When you study Kadir Nelson's art you can immediately tell that a lot of time and effort went into it. He uses oil paint in his work and you will find yourself lingering over each page in his children's books. Lines and Colors describes how he takes on the challenge of placing his subjects in the very center of his compositions by "relying on his skill for visual drama to avoid any sense of the image being static. This approach allows him to confront the viewer with a subject that faces them directly, essentially demanding an interaction and response." I think this stye is important because he is calling readers and viewers to think more deeply about on-going issues featured in each of the stories he has illustrated.
The Undefeated is a poem written to honor African Americans throughout our country's history. Some of my other favorite books that he has illustrated are Moses: When Harriet Tubman Led Her People to Freedom written by Carole Boston Weatherford and We Are the Ship: The Story of Negro Baseball League, which was also written by Kadir Nelson.
I have written a review of two of Nelson's other books that are written in verse. Becoming Muhammad Ali, which is co-authored with James Patterson and Out of Wonder.
For ages 5-12.
Matilda
Written by Roald Dahl & Illustrated by Quentin Blake
Matilda is one of my all-time favorite stories. I love her thoughtful personality and her long-suffering patience with just about every person in her life. Reading one of Roald Dahl's books is always a special experience for a child, but enjoying the illustrations providing by Quentin Blake help to bring the story to life. His drawings always feel simple and hurried, but they are also comforting. Maybe it's because they are so familiar to me since I have read these books since I was a child. Blake won a Children's Laureate in 1999 for his work.
If you are looking for inspiration from this artist, you should read Flights of Fancy: Creative Inspiration from Ten Award-Winning Authors and Illustrators. Quentin Blake is featured in this book and it is full of great ideas for aspiring artists and writers!

Also, as I was researching information about Matilda, I came across this newly published version with illustrations by Sarah Walsh.
For ages 6-9.

Patricia Polacco has a book for every reader in your family. If you didn't like one, try another because I guarantee you'll find one that you love! She has illustrated over 100 books. My son and I have read her version of Casey at the Bat by Ernest Lawrence Thayer at least 100 times. He likes to give kisses to everyone's cheeks and knees because she adds rosy circles to each character and he thinks they have a boo-boo.
As a young girl Polacco was unable to read because of dyslexia. It was through the patience of her teacher, Mr. Falker that she finally learned how to read at the age of 14. She found an outlet in creative arts and later earned a degree in fine art, as well as a PhD in art history.
Most of her illustrations are done in graphite or with pen and ink. She has also been known to use some collage in her work. I love her use of muted colors in her drawings and also how she highlights important subjects with brighter colors. You can feel the challenge and the joy that each of her characters experience throughout her stories.
For ages 6-10.
Watercress
Written by Andrea Wang & Illustrated by Jason Chin
Watercress is a moving story about a young girl who feels ashamed that her family would forage for watercress on the side of the roads. She begins to learn more about her Chinese heritage from her parents who are immigrants and it helps her to be proud of her family culture.
This book is the 2022 Caldecott Award recipient. Jason Chin used watercolors to create the illustrations. He incorporated Chinese landscape painting styles as a nod to the family in the story.
For ages 6-10.
Jumanji
Written & Illustrated by Chris Van Allsburg
I think more people know and love Chris Van Allsburg's work than they realize. The titles of many of his books are household staples, but not too many people are familiar with his name. This very talented man wrote Jumanji, as well as its sequel Zathura. He also wrote The Polar Express, which is a classic Christmas story. My personal favorite is The Garden of Abdul Gasazi, which is about a young boy who chases a naughty dog into a private garden. You are led to believe that the dog is magically turned into a duck for his misbehavior, but at the end, like many of Van Allsburg's books, you begin to second guess your decision. The Mysteries of Harris Burdick. (Link to review.)
In The Mysteries of Harris Burdick you find more of Chris Van Allsburg's black and white illustrations, which are presented in his typical style. However, this book is a great way to inspire writers. There is one mysterious picture presented on each page that only includes a title and caption for the book. The book is meant to inspire readers to create their own stories based off of the little bit of information that they are given.
Also, did you know that you can search through the pages of each book to find a little bull terrier? It is a fun way to keep readers engaged!
One of the often overlooked ways to read a book, is to simply read the pictures. Chris Van Allsburg is a master at encouraging readers, both old and young, to do this. Learn more about this method of reading by checking out my post on the Three Ways to Read a Book.
For ages 6-10.
A Place to Hang the Moon
Written by Kate Albus & Cover Art Illustrated by Jane Newland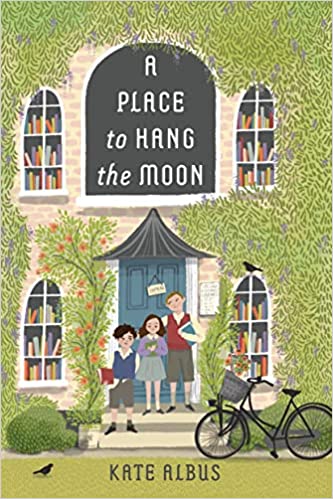 A Place to Hang the Moon is one of my favorite books that I have recently read. Also, I am a big fan of the cover art, which is illustrated by Jane Newland. I have followed her work for some time and I was excited to see that she had a hand in bringing life to this story. Her work is very distinct. She uses a lot of repetition of basic shapes to create lush gardens and beautiful natural scenes.
Be sure to read my full review of this book and also get a look at more of Jane Newland's illustrations.
For ages 9 and up.
What a Wonderful Word
Written by Nicola Edwards & Illustrated by Luisa Uribe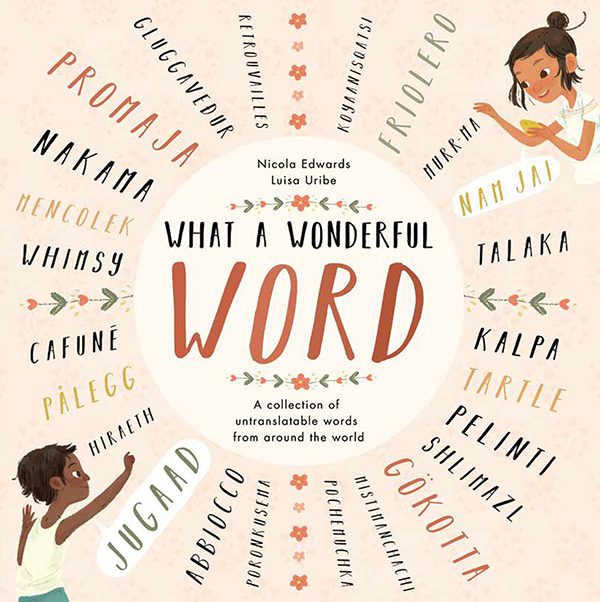 See inside of What a Wonderful Word and read my full review of the book.
For all ages!
Art is for Everyone
I hope you have found inspiration from these children's book illustrators to share great art with your own children. If anything, may you work to slow down as you read and carefully look at the pictures to know more about the overall story that is being shared. There is much beauty to take in!
If you are interested in learning about other potential pitfalls that could frustrate your child, sign up below to receive a breakdown of ideas to encourage a more relaxed approach to reading instead.