Brown Girl Dreaming by Jacqueline Woodson is a memoir of her childhood written as a collection of poetry. I originally listened to the audio book version of this book, which Woodson reads. As many of her books do, this book draws you in with the poetic imagery and prose that she so frequently uses in her writing. It is a clear expression of her beautiful heart using such beautiful language. I think it flows well and you sometimes feel like you're listening to a song.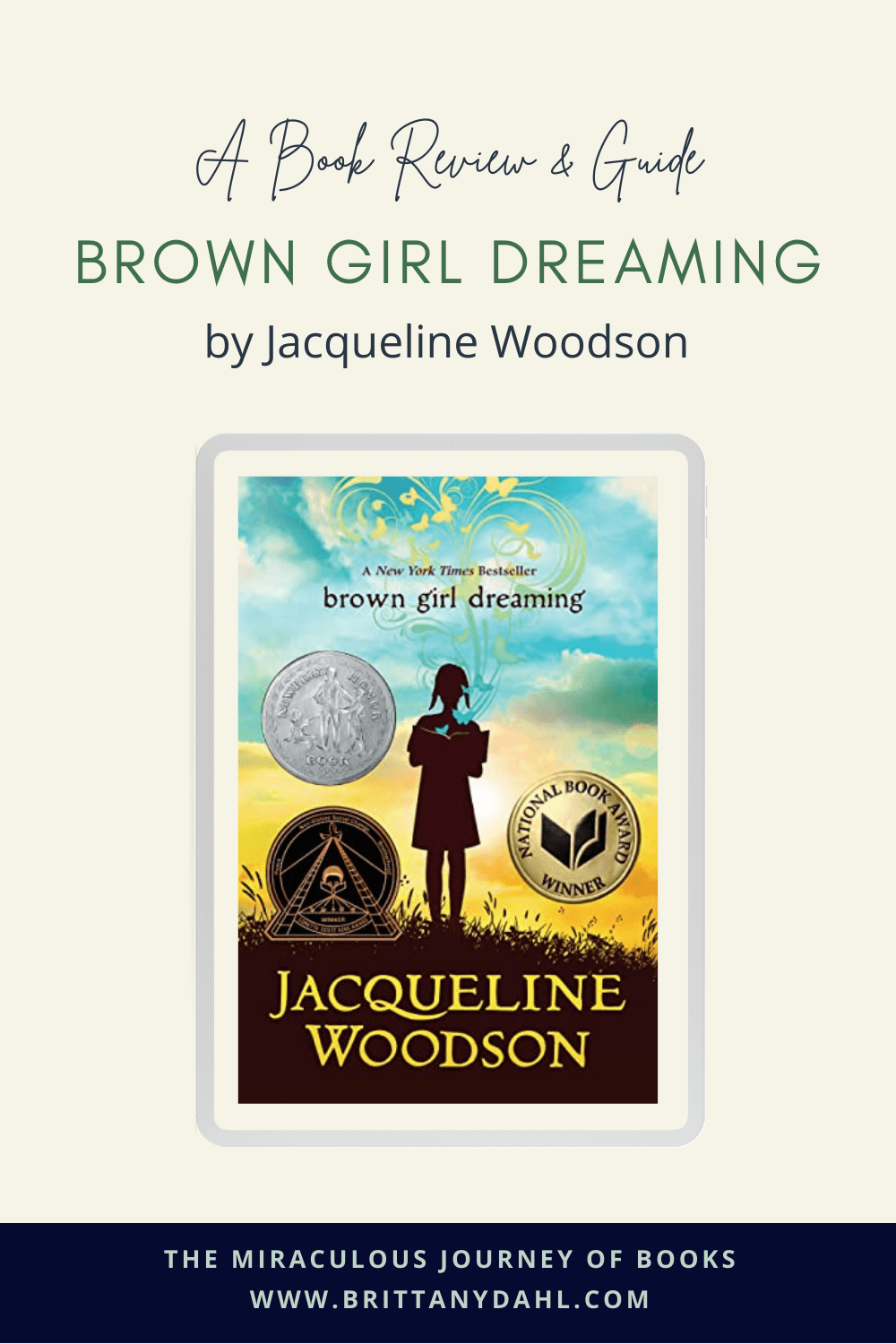 Woodson was a young girl during the Civil Rights movement of the 60s and 70s, and she does a great job of introducing this topic to children, which many of them might be unfamiliar with. Through the poem she describes difficulties of what it was like to grow up spending an equal amount of time in New York and South Carolina during this era.
My favorite part of the story is that she honestly describes her trouble with reading while she was growing up. This is inspiring given the amount of books she has written at this point in her life. She was a hard worker who was truly able to overcome this and many other obstacles in her life.
What Parents Need to Know
Jacqueline Woodson is not afraid to write about topics that are sometimes considered to be very sensitive. In this particular book, she does it in a way that helps readers to understand what it was like to grow up in the segregated South during Jim Crow. She shares about the violence that occurs during marches and towards African Americans, which has created fear in her and her family. However, she does not go into detail about the violence. Also, she explains that many inappropriate swear words are commonly used towards African Americans, but she does not use the actual words in her writing.
Woodson always has positive role models in her stories. You will frequently find, through the challenging plot, someone who stands up for what is right and makes a difference. This leads to great discussions about character development and also conversations about personal application.
Read Aloud
As I mentioned previously, I would recommend listening to the audio book version of this story. Or, it might be fun to read it with your child aloud. This would be a great opportunity for them to practice fluency, which can sometimes be tricky with a poem. There might be a few places you would need to reread to make sure you properly articulate the story and get its full effect.
Teaching Opportunities
Discuss the Civil Rights movement and its affect on America's history. You might consider discussing recent events in our country and why change continues to be important.

What changes have occurred since the marches in the 60s?
What still needs to be changed?

Talk with your child about your life growing up. Share with them the history of your family and the experiences of those who came before you.

Why is your family's history important in shaping who you are today?
Is your family history different from your friends or other students in your class?

Jacqueline learned that she has an important story to share and she wanted to do that through writing, even though it was difficult for her. Talk about things that are difficult for you or your child.

Is there something you can learn from that challenge?
Can you use it in a positive way?
How do you like to share your ideas and your feelings?
Awards
Brown Girl Dreaming by Jacqueline Woodson has won a number of awards. To name a few:
Newbery Medal Nominee (2015)
National Book Award for Young People's Literature (2014)
Coretta Scott King BookAward for Author (2015)
Other Books by Jacqueline Woodson
Thanks for reading our review of Brown Girl Dreaming. You can find other reviews in our Library.
*We use affiliate links to share products with you. If you use the link to make a purchase, the cost of the book doesn't go up for you. However, we will receive a commission and we do appreciate your support.