Are you brainstorming for that Disney trip next year? Or maybe you're ready to get out there and start exploring now. Either way, we get it! When planning for a family vacation, you spend a significant amount of time getting every last detail to be just right. Even with all that work, keeping kids entertained as you travel can be a challenge. Whether you are hitting up planes, trains, or automobiles, we want to help you quickly and easily find the perfect activities for your family to enjoy as you journey to your destination.
*We use affiliate links to share products with you. If you use the link to make a purchase, the cost of the book doesn't go up for you. However, we will receive a commission and we do appreciate your support.
Books to Take on a Family Vacation for Babies & Toddlers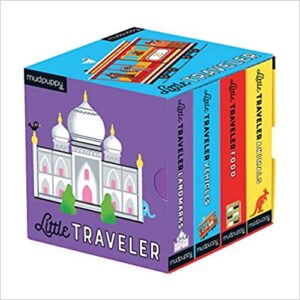 This series was given to us as a gift and we love to read it with our little one! Each book has bright, contrasting colors that are great for baby's developing eyes (read more about infant eye development in our recommendation list of baby board books – I go into more detail in the "First Look Books" section). The Little Traveler books are about different aspects of travel: landmarks, vehicles, food, and animals. Introduce the love of travel and new places to your little one!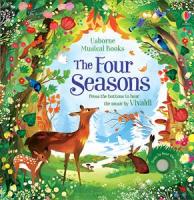 Many sound books can be loud and obnoxious, but this one from Usborne Books is something everyone in the car can handle! It plays Vivaldi's Four Seasons, which is both entertaining and calming at the same time. I have found that sound books, as well as touchy-feely books hold my baby's attention more than any other type of book. This one is a personal favorite!
Books to Take on a Family Vacation for Preschoolers & Kindergartners
The joy of traveling brings many first-time experiences for little ones, which inevitably leads to lots of questions! The "Peek Inside" series is a great way to satisfy curious minds as you travel. This particular book focuses on the inner-workings of a plane. Kids can check out the pink fuel used to power the plane, examine the engine with the mechanics, and get an overview of the controls inside the cockpit! You watch as baggage and travelers fill the plane, taxi onto the runway, and then soar into the sky. There is so much to learn from this great book!
This book is part of a great series that your kids 3 years and up will love! Peek inside burrows, inside barns, under leaves, and even inside the zoo, to find all the fun facts about our world.
If you have done any traveling before, you have likely come across a Lonely Planet guide book. They are expanding on this line to add Lonely Planet Kids, "a children's imprint that brings the world to life for young explorers everywhere." They have great resources to get your little one excited about exploring our great big world, too!
How Cities Work is a fantastic, interactive book that allows kids to get an inside look at some of the places we frequently visit. There are lots of facts, loads of flaps to lift, and unfolding pages to see inside buildings and even under the streets.
Billie B. Brown is a fantastic series created especially for new readers. She is "brave, brilliant, bold, and bound to become your best friend!" In this particular book, Billie is bound for a visit to her grandmothers house when she wakes up to find she has the chicken pox.
I love this series because it makes everyday situations relatable and fun. There are great themes of friendship, family, and it encourages your child to be positive and kind.
Getting your budding reader hooked on a series is one of the best ways to encourage a love for reading. (Read more about the importance of a series here.) A great car trip is the perfect place to start introducing them to these types of books.
Books to Take on a Family Trip for Elementary Age Kids
Whether you have plans to visit some place other than Grandma's house or somewhere more adventurous, this series is a great choice for your kids while you travel! From monuments all across the United States to many international sites, these books are packed full of great information that will get your kids excited about your family vacation. There are 36 books so far in the series and you are likely to find one about the area you will be visiting. Topics cover places like the Brooklyn Bridge, Alcatraz, the Mississippi River, Walt Disney World, Broadway, and the Tower of London.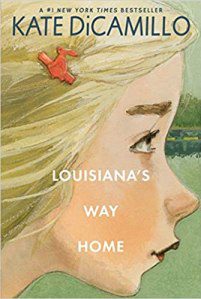 This book will have you on a middle-of-the-night-road-trip traveling North from Florida to Georgia with Louisiana Elefante and her very strange grandmother. Granny is certain that it is the day of reckoning and they must not return to the small town of Louisiana's best friends and the life she so enjoyed. As strange as she is, Granny is one of my favorite characters in this book. She brings a lot of humor to the frustrating situations that she creates for herself and her granddaughter.
Louisiana is unsettled by the fact that she does not have a place that feels like home. On some level, I think we can all relate to this unsettling feeling. What is it that gives us a feeling of home?
As the pair rest from their journey for a few days in Georgia, Louisiana makes friends with some unlikely folks around the hotel. She also learns some interesting details about herself and her past; details that help to shape her future and lead her home.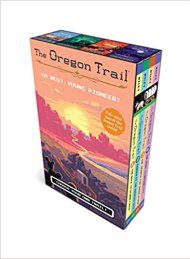 These books are the perfect companion for any traveler! They are written with a "choose your own trail" series that allow you to complete the journey to Oregon City. "It's 1850 and your first goal is to get your family, covered wagon full of supplies, and oxen to Chimney Rock on time. But hurry–you'll need to make it through the rugged mountains before winter snow hits. Plus, there are wild animals, natural disasters, unpredictable weather, fast-flowing rivers, strangers, and sickness that will be sure to stand between you and your destination!"
There are twenty-two possible endings in each book, they challenge you to make the right decision with the consequence of not making it to your destination on time. There's also a great element of studying a map to help you make the best decision!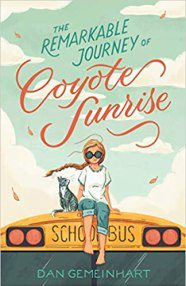 All family vacations would benefit from the inspiration of The Remarkable Journey of Coyote Sunrise. I loved this book and it definitely got me thinking about hitting the road with my family!
Coyote and her dad, Rodeo, travel around the country in a school bus for five full years. Along the way they encounter a motley crew of folks who are each on their own adventure. When young Coyote learns that a beloved park in her home town is being demolished, she comes up with a sneaky plan to convince her dad to drive back to their home state of Washington. My favorite part of this book is the great theme of acceptance, kindness for others, and family bonds.
I would recommend this story for kids who are ages 11-13.
Activities for Babies & Toddlers on a Family Vacation
Having some interactive activities ready to hand-off to your kids will definitely add an element of excitement to your family vacation.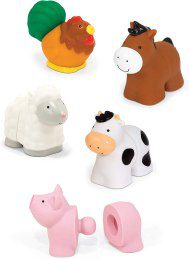 For your littlest kiddos, Pop Blocs are the perfect toy to keep them busy, as well as encourage growing fine motor skills. Children must match the animal parts together to make them whole, which also improves cognitive skills. There are two parts to each animal, which means they're easy to keep track of in the car! Also, a textured ball set will help babies to develop tactile senses as they manipulate the soft balls. One or two of these thrown into your activity bag will be perfect to keep them busy.
Activities for Preschool & Early Elementary Kids on a Family Vacation
Another great way to entertain your kids is to share some card games that encourage them to hunt for objects along the drive. Or, keep their hands moving while building with Wikki Stix.
Activities for Kids in Elementary and Middle School on a Family Trip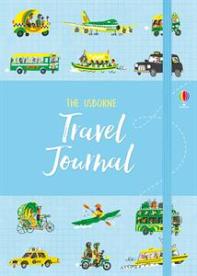 About two years ago, my husband and I started keeping a travel journal, and it has already become a precious keepsake. This particular journal offers your little one prompts to guide them on what to write. There are also places to capture some of your memories with drawings.
The Usborne Travel Journal is part of a series of activity journals that I would recommend checking out. There might be something to inspire your budding writer while you are on your family vacation.
I would recommend these for age 7 and older.
This Travel Activity Pad has over 200 tear-out pages that are perfect to keep little ones entertained for long journeys! There are picture puzzles, foldable activities, mazes, color-by-number sheets, and lots more.
Recommended for age 6 and up.
Here is another great travel activity book that has activities with travel themes! There are pages filled with word searches, number problems, map activities, mazes, and many other fun games to keep their little minds thinking!
Recommended for age 6 and older.
Listen to Audiobooks on Your Family Journey
Audiobooks are one of my favorite ways to pass the time on the road and still feel like you've done something productive! A fun game to play to keep your kids engaged is to turn it off at random points and ask them to tell the next part of the story. Then, listen some more to see if they got it correct! Here are some of my favorites for a long car ride: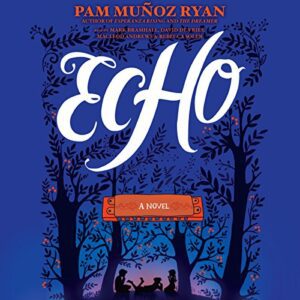 Echo is a beautiful tale that begins as a fantasy telling of a prophesy and the importance of a harmonica. Then, it turns into a work of historical fiction that takes place during WWII.
The setting changes from Germany to Pennsylvania and then to Southern California, following the stories of three musically inclined children.
I would highly recommend that you listen to the audiobook! Since there is such a strong theme of music, there are musicians playing all of the pieces mentioned throughout the story. They talk about a number of famous composers and their works, so it is very exciting to actually hear the pieces as you are reading.
Read our more detailed review, including great questions for teaching opportunities throughout the story!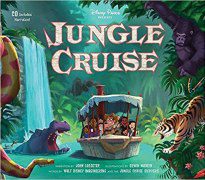 The best part of Disney's Jungle Cruise are the skippers! Listen to this fantastic book that includes all of their "pun-omenal jokes" that you hear on the ride. Imagine yourself on the boat with a "witty and experienced skipper to exotic rivers of the world, and leave smiling with memories of their vibrant voyage."
Along with the audio you get to enjoy some great illustrations that accompany the jokes of the classic attraction, and together they steer readers deeper and deeper into lush lands filled with adventures, animals, and laughs.
I originally read this book during my teaching internship to a group of energetic eight year olds. They were enraptured by this story, and so was I! It is the prequel to Peter Pan and gives you great insight into how this fantastic boy of Scottish fairy tale lore came to be.
It is read by Jim Dale, who also narrated the Harry Potter audiobooks. Also, if you enjoy the first one, there are four more in the series!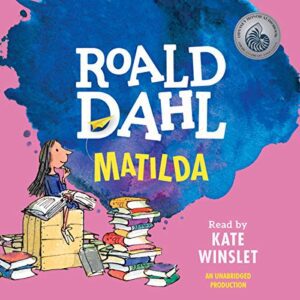 If you have ever read a Roald Dahl book aloud, you have probably realized that it is no easy task! He is a master with words and quick wit, but the phrases he links together do not easily roll off the tongue. Therefore, it's much easier to listen to his stories on audio! He is a fantastic writer and this tale of a neglected young girl who makes a way for herself will easily draw the most reluctant readers in. I love the magic and the joy in this story. Plus, the silliness leaves you with a perpetual smile! An added bonus to listening to the audio is that it's narrated by Kate Winslet.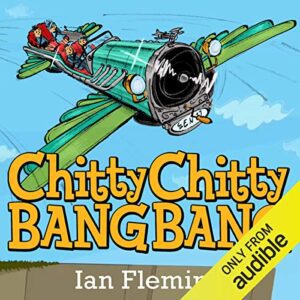 While researching and brainstorming for this post, I kept coming across Chitty Chitty Bang Bang. I distinctly remember watching and loving the Disney movie as a child, but I have not had the pleasure of listening to it. I have immediately added this to my "to read" list, and I have a feeling you should, as well.
What could be better for a road trip than a traveling, flying car?
Finding Family Friendly Audiobooks for Free
The best place to find audiobooks is at your local library. They can be pricey, so stream them from your phone or check out the set of CDs to play in the car. All libraries offer online access to digital resources that you can download for free using your library card!
Study an Interactive Map as You Travel
Each of these books are excellent for the travel time on your family vacation. They will help to keep your little explorer engaged and excited about each coming state that you journey toward. Also, many of these are frequently used alongside homeschooling curriculum. They have become favorites for parents and children!
When I was little, I remember spending time carefully looking through my dad's old atlas. The maps amazed me and I was excited about the idea that there was so much more out there than I could see in my little back yard. The Big Picture Atlas from Usborne Books & More is created with little travelers and adventurers in mind! The large picture maps are perfect to help little ones learn the basics of world geography. They are filled with illustrations about regional cuisine, cultural traditions, and also the capitals! This book is perfect for visual learners to grasp the important ideas and experiences our world has to offer. It would be a lot of fun to look through in order to learn more about your destination!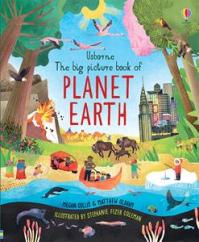 The Big Picture Book of Planet Earth has impressively beautiful illustrations! I was surprised by how much I loved this book and I've been highly recommending it to curious travelers ever since. It would also make the perfect addition to any homeschooling curriculum. As you read through the book, you will venture to each continent and learn about its fascinating features. The text uses excellent vocabulary and also includes a thorough index in the back to look up specific topics. You will also have access to online resources that include virtual tours, games, and more great information.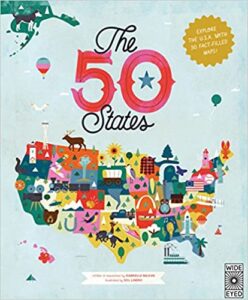 This beautiful book is filled with state maps that include quirky illustrations and an abundance of facts! I love how the information is organized. Kids don't feel pressured to read it from cover-to-cover, but they can quickly reference areas that interest them. They will learn about the state's nickname and why that name came about, the many state symbols, as well as people who are significant to the state's history. My favorite part is the events that they share because many of the events are not common knowledge!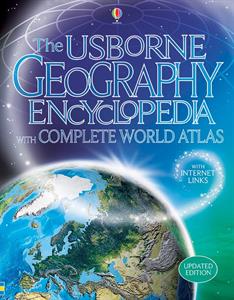 This is not your typical, boring encyclopedia. It's a book that is well-loved by many families. It's filled with facts, photographs, charts, and colorful maps! This newly updated book will introduce you to the whole field of geography, from rocks and their formation, the Solar System, weather and climates, and oceans, to human settlements, population trends, diverse ecosystems and environmental concerns.
FREE Coloring Pages for Kids on the Go
Safe Travels on your Family Vacation
Family Vacations are another great opportunity to show your kids the magic of books. As a parent, you may be dreading the "Are we there yet?" complaints. We know what it's like to repeatedly hear those little protests from the back seat! This doesn't have to be an over-the-top perfect experience, but you do want to offer your kids something simple and enjoyable.
Find a suitable activity, purchase, and stick in it your travel bag! Take the worry out of this part of your family vacation. Looking for more great ideas? Sign up for our email list to receive weekly inspiration. We help you quickly and easily choose the perfect book so you will have more time to read, building a lasting and loving relationship with your child.