This holiday season, in spite of the complicated year, let's end 2020 with what matters most. Create a time and space for your family to gather and to find comfort in one another.
Even though this is the first Christmas with my new baby, I want to make sure I am not just buying stuff, but I'm creating an experience for us to enjoy together.
I bet you want the same for you and your family.
One constant is the traditions that we all enjoy as a family. I think it's important to carry on our old traditions in order to bring that comfort we all need right now, but I also think it would be fun to add some new traditions that allow room for us to grow because of the challenges we have experienced this year.
I hope our Holiday Gift Guide will help to inspire you to make room for these traditions, new and old. Enjoy!
*We use affiliate links to share products with you. If you use the link to make a purchase, the cost of the book doesn't go up for you. However, we will receive a commission and we do appreciate your support.
Create a Reading Experience With Your Kids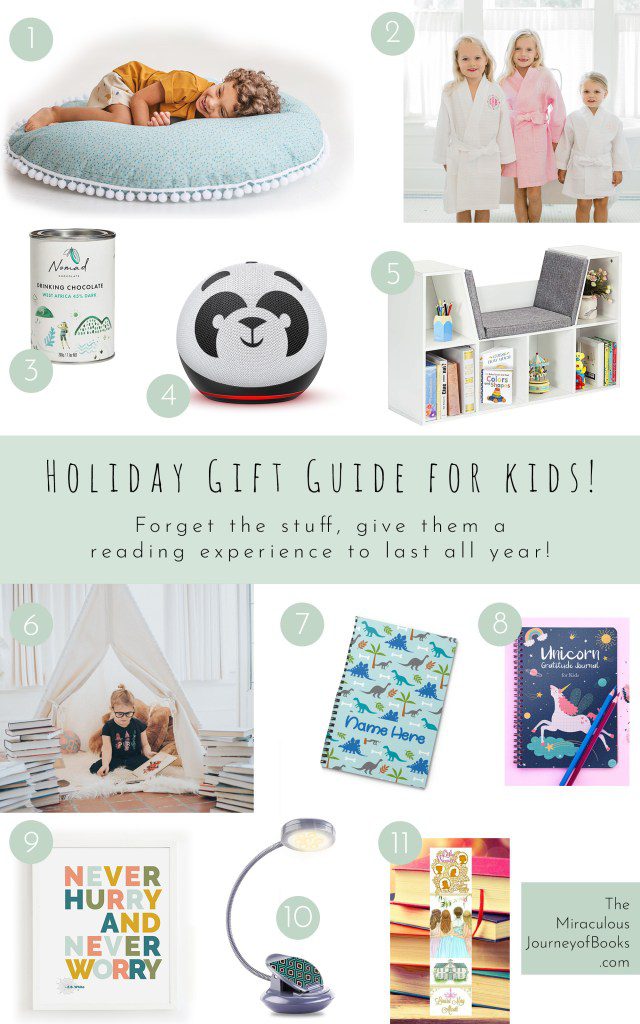 1. Add a great floor pillow for them to get comfortable! MinicampLT has some beautiful options to choose from that will fit just about any color scheme, and appeal to your child.
2 & 3. Let your child cozy up in a comfy robe on a chilly night with a great cup of hot chocolate!
4. Add a kid-friendly Echo Dot that is designed with parental controls. "Kids can ask Alexa questions, set alarms, and get help with their homework."
5. Opt for a combination seating area and shelf to give your child a space to relax, as well as store their favorite books.
6. Create a space for your child to escape into their book by using this great canvas teepee from the TipTopTeepeeShop.
7 & 8. Offer your kids the opportunity to jot down their secrets in a personalized journal, or encourage mindfulness practice with a gratitude journal.
9. Decorate the area with a meaningful quote from Chrlotte's Web to inspire more reading! These are designed by StoryFramePrintables in conjunction with our blog.
10. Be sure to get them a great book light to make their little corner comfortable!
11. A bookmark with a bookish theme will help them keep their place and encourage further reading.
Add Some Books to Make the Experience Magical

Mindful Kids Complete Journal Collection – "The age-appropriate exercises and activities are designed to tackle the complex emotions a child faces and help the child to work out how and why they feel that way. Collection includes: Be Brave!, Be Positive!, Hello, Happy!, Letting Go!, No Worries!, and Stay Strong!"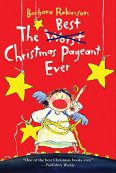 The Best Christmas Pageant Ever by Barbara Robinson – I have read this book to my students for the past eleven years. It never fails to make us laugh — to the point where I have to stop reading so everyone can hear me – and it also always manages to cause me to shed a tear or two. This is the sweet story of a family of misfits who find their way into the church Christmas play. It will show you the true meaning of this great season, and it deserves to be reread each year.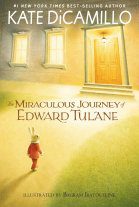 The Miraculous Journey of Edward Tulane by Kate DiCamillo – This heartwarming story is my all-time favorite children's book! I think it makes the perfect Christmas gift because of its themes of humility, friendship, and loyalty. These are qualities on the forefront of everyone's mind this time of the year. Encourage it in full with this meaningful read.
The Chronicles of Narnia by C.S. Lewis & illustrated by Chris Van Allsburg – This epic adventure takes you to the exciting, far-off land of snowy Narnia by way of a wardrobe. This particular collection is illustrated by Chris Van Allsburg, who is my favorite picture book author. The illustrations are mystical and well suited for this beautiful story. Don't let your child miss out on the important message these books have to offer!
E.B. White Box Set – It's possible that E.B. White has written the most perfect book with Charlotte's Web. This box set includes that beautiful tale, as well as Trumpet of the Swan and Stuart Little. I vividly remember checking out these books from the library when I was a little girl. Stuart Little was a little difficult for me to read, but I remember the feeling of wonder that it gave me. Add these to your child's library this holiday season!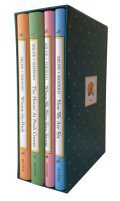 Pooh's Library by A.A. Milne – This collection includes all four books from the adventures of Winnie-the-Pooh and his friends in the Hundred Acre Wood. The box, as well as the lovely covers, are perfect to display in any child's bedroom. Not to mention, the joy you will experience sharing this world with your kids is worth offering it as a gift.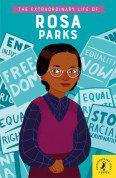 Extraordinary Life Complete Collection – Included: Anne Frank, Katherine Johnson, Malala Yousafzai, Neil Armstrong, Rosa Parks, and Stephen Hawking. "From real-life narratives to timelines and facts, each fully illustrated book focuses on the life of an inspirational historical or modern figure. Explore the childhood, the achievements, and the qualities of each figure – the very things that helped them have such an incredible impact on the world."
Lightning Girl by Alesha Dixon- "A brand-new series with all the classic tensions of superhero versus super villain! This high-voltage adventure series has relatable family and friendship dynamics, laughs on every page and fantastically funny art throughout."
Don't Forget the Stocking Stuffers!
Stockings are one of my favorite parts of Christmas. We always saved them until last to open and they ALWAYS included underwear. ha! There were some fun items, too. Don't worry! Now I am excited to keep the tradition going with my family. All of these books and goodies are perfectly sized to slip into a stocking. And boy, are they fun!
Be sure to check out our other 2020 Holiday Gift Guides:
Ages 0-5 Years Old 2020 Holiday Gift Guide
Kindergarten – 2nd Grade 2020 Holiday Gift Guide
6th – 8th Grade 2020 Holiday Gift Guide