Are you looking for the perfect outdoor activities for kids? Spending time in nature should be all about hands-on experiences and exploration. Kids should be planting, digging, observing, and pulling things apart. It's a great opportunity to be active! After reading this post, you will be inspired and motivated to enjoy nature and its many benefits to the fullest with your kids. This time spent outdoors, will offer new experiences and background knowledge to your children that will directly help them improve their reading comprehension, not to mention decrease stress levels, improve creativity, and allow them to have some plain old fun!
The resources necessary to enjoy these outdoor activities for kids are easily accessible and very low cost. Most of them are right outside your door, at the nearest park, or something you can obtain for free from your local library! Some of these ideas are quick and easy to implement, and some take more planning and time. Either way you will find an activity that suits the needs and interests of your kids!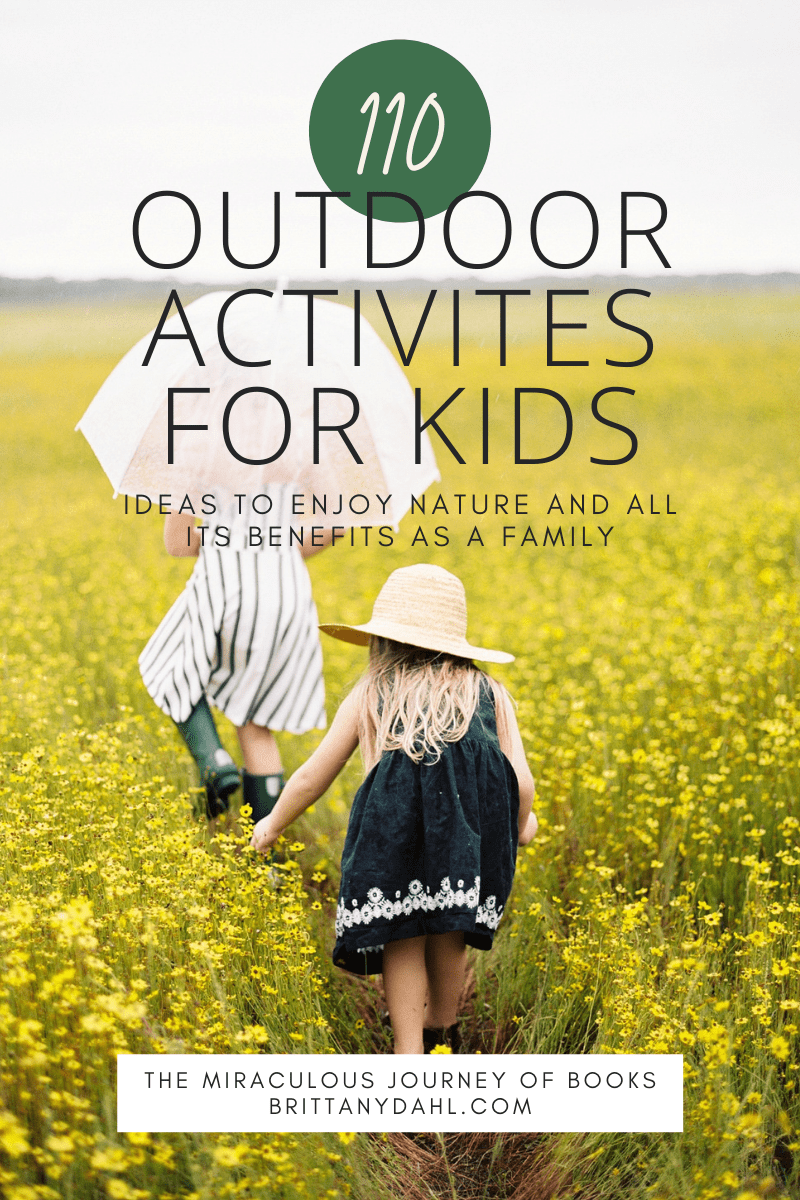 The Charlotte Mason Method & Outdoor Activities for Kids
These outdoor activities for kids closely follow Charlotte Mason's ideas of teaching by spending ample time outdoors, as well as enjoying things like rich literature and "living books." I truly believe that time in nature is one fantastic way to get them excited about reading! Are you surprised? If they have the opportunity to explore a topic hands on, they become excited to read about their personal experience in a book.
Think about it, you have created a garden, even if it's just a container garden on your patio or balcony, they watch little sprouts come up, they water, fertilize, and care for this plant until it's time to harvest. What an accomplishment! Then, you offer them a book reiterating and confirming the things they have observed. They will be so excited to share this affirming knowledge with you! It's the perfect opportunity for your child to discovery the magic that books have to offer, as well as reinforce the new life skill they have experienced.
We, parents included, have so much to learn through exploration. Enjoy these outdoor activities as a family!
In the first place, do not send them; if it is anyway possible, take them; for although the children should be left much to themselves, there is a great deal to be done and a great deal to be prevented during these long hours in the open air. And long hours they should be; not two, but four, five or six hours they should have on every tolerably fine day, from April till October.

-Charlotte Mason
*We use affiliate links to share products with you. If you use the link to make a purchase, the cost of the book doesn't go up for you. However, we will receive a commission and we do appreciate your support.
1. Try Square Foot Gardening and Study the Plant Life Cycle
The goal of Square Foot Gardening is to "encourage gardening, plant-based living, self-sufficiency, and low-impact food production."
I was able to use this method with my fifth grade students, and I found that it quickly became one of the kids' favorite outdoor activities! Their sense of accomplishment while harvesting the vegetables was what made the whole project worthwhile.
Introduce Real-World Math Problems
This type of gardening is perfect for all ages. It has great tie-ins with math and science. For math, with younger students you can practice counting and easily move into more complex math strategies like finding area with older children. Measurement is obviously a huge factor when planning the garden. This includes practicing using a ruler, measuring the spacing between seeds, and laying out the square foot plant bed. These ideas for math are just scratching the surface of what you will be able to teach while working with your kids.
Explore with Hands-On Science
In regards to science, you will obviously be able to cover the life cycle of a plant, which is truly magical to witness. Every new season I love to see the plants change! You will also have the opportunity to talk about seasons as you decide which plants to include in your garden. Other great topics will be caring for plants, insects and other garden friends you will encounter, and even cooking lessons!
Some other skills the square foot gardening website shares for this are:
Basic construction (building a 3' x 3' box and the grid)
Planning (sourcing materials, organizing seeds, planning what to plant and when)
Water conservation (how to properly water plants to avoid wasting it)
Growing food (vegetables, fruits, herbs)
The book offers step-by-step guides that walk you through the process of growing your own square foot garden. There is also a detailed book specifically designed for taking on this kind of project with your kids: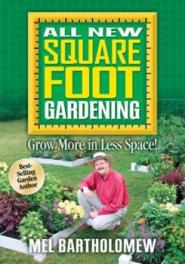 2. Dissection of a Flower
Another one of my students' favorite outdoor activities for kids is to carefully take apart and label the parts of a flower. Taking the time to dissect flowers and closely observe each part, learning about its purpose, is important to help kids understand the life cycle of a plant.
Imagine gingerly pulling off the petals and studying their patterns. Did you know lines help to guide pollinators to the pollen of a flower? Then, you take off the stamen and inspect the pollen. Talk about how it attaches to the pollinators so they can carry it to another flower and brush against its pistil to fertilize it. After that you, carefully open up the ovary and inspect the seeds inside! This is the part that becomes fruit if the flower is fertilized. It's easier to imagine when you see the seeds inside and then compare it to the seeds inside of an apple! Your kids will love this activity!
There are numerous lesson plans online that will easily guide you through this process. In the past, I have used AIMS (Activities in Math and Science activity books to help me with this lesson). Another great resource is Science Buddies. They have very detailed plans to help guide you through teaching your little one about the plant parts. They even offer some tips on specific flowers you should consider using, and some great questions to help prompt kids to think through the process of their investigation.
3. Study Butterflies & Learn About Complete Metamorphosis
If you are looking for an incredible experience with dramatic change and a fast reward, you should definitely add studying butterflies and their life cycle to your list of must-do outdoor activities for kids!
I would recommend focusing on Monarch butterflies. They are a threatened species that migrate more than 2,800 miles from the US and Canada to central Mexico. We always see them in Florida during the spring. Check out this migration map to see when they will be in your area.
Attract Monarch Butterflies to Your Yard
The only host plant for the Monarch Butterfly is Milkweed! There are many varieties that you can find in North America, but I would recommend getting a native milkweed plant, which dies back every year. Check a local nursery for these varieties. If, however, you don't get a native plant, you should cut the plant back once the butterflies pass through your area (for Florida that is the end of October). This encourages the butterflies to continue on their migration pattern!
There are also websites where you can order the caterpillars or their eggs, but it's just as easy to attract them with some beautiful flowering plants.
Steps to Raise Monarch Butterflies
Once you have planted your milkweed, you'll want to check it daily for eggs. The Save Our Monarchs Website has very detailed information to help you through the rest of the process! It is a lot of fun to care for these beautiful insects and to watch them change on a daily basis.
If you do not transfer the caterpillars to a safe area after they hatch, they often do not survive. We have found wasps attacking ours. Interestingly, birds tend to stay away from them because they taste bitter.
Complete Metamorphosis
Monarchs undergo a complete metamorphosis because they physically change through a series of stages.
Egg: 3-5 days
Larva: 11-18 days
Chrysalis: 8-14 days
Butterfly (adult form):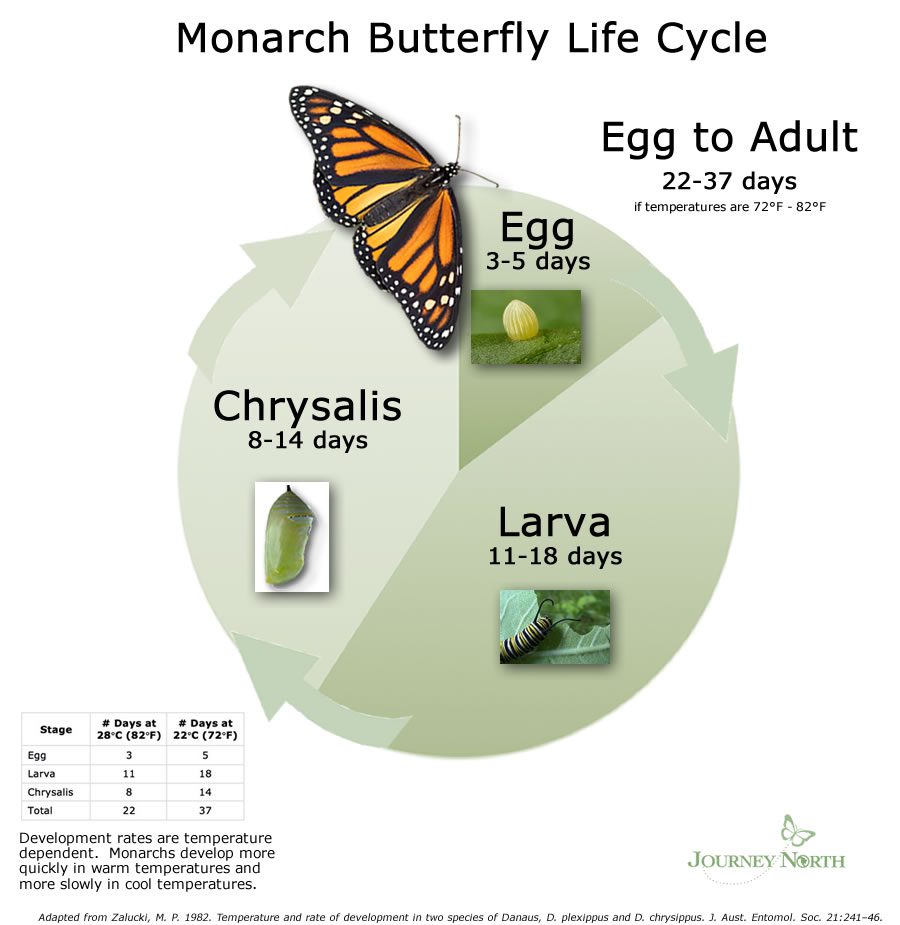 This diagram from JourneyNorth is a helpful visual of the length of time they spend in each stage. This would also be a great project for a kid to note in their observations and then create a pie chart on their own.
4. Make a Bird Feeder & Observe the Birds
The best way to observe birds is to create a feeding station in your yard. In fact, one of our favorite things to do right after breakfast is to hang out on the porch and watch the birds flit about.
Create your own bird feeders using some of the great ideas suggested by Happy Hooligans! I personally love the Lego bird feeder with its clever perch. Or, have an up close and personal encounter with a window bird feeder that suctions to the window of your home.
Hummingbird feeders are a great option, too! Hang it near a plant that produces long, tubular flowers. We love our crossvine with its bright, peachy flowers. The vine grows over our pergola, and it flowers frequently throughout the year. The hummingbirds love it!
We recently purchased a hummingbird house from an Etsy store that has beautiful, handmade wooden houses. It has been so much fun to watch the birds come and go.
Be sure to have a variety of plants that attract birds. Consider planting not just flowers, but shrubs (so they can build a home) and trees (for nests and perching). Your backyard habitat should have a variety of options for animals to feel comfortable.
5. Visit Parks & Botanical Gardens
Visiting local parks and gardens is an excellent way to learn about nature and one of my personal favorite outdoor activities for kids. Rangers and other attendants in these parks are extremely informative. Plus, a number of them offer special activities designed specifically for kids.
State Parks
America's State Park system is vast and there is bound to be one or two near you! Many of these parks are free to the public. Kayaking, fishing, hiking, camping, and exploring are just the start of the great adventures you could enjoy with your family. Excitingly, the park system has an initiative to "increase the public's awareness and value of connecting children and nature." Be on the lookout for more opportunities specific to kids!
My family frequently hikes trails in our area (yes, in Florida!). It's an easy adventure that can take just a morning and still let you feel like you are "getting away."
National Parks
Our National Park System is a series of parks specifically set aside by our government to conserve the land. Each park is unique and has so much to offer!
There are special initiatives just for kids with free passes for 4th graders to get into parks, Junior Ranger activities, and other great opportunities.
With all they have to offer, you should make time to find a national park near you.
Botanical Gardens
Botanical gardens are unique because they are "institutions holding documented collections of living plants for the purpose of scientific research, conservation, display and education." You can learn about plants from all over the world, including rare and endangered plant species!
Many gardens often provide special classes or activities or kids. I enjoy walking around them because it's peaceful and calm. Find one near you!
6. Identify Native Plants
As you explore nature, take time to stop and observe the plants around you. Each plant plays an important role in its ecosystem. What features do you see that would help animals and other wildlife?
A fun outdoor activity for kids would be to draw and color the plants that you find. Add as many details as possible. Older kids can label the parts that they have drawn, as well.
Why Native Plants?
The National Wildlife Federation defines native plants as having "formed symbiotic relationships with native wildlife over thousands of years, and therefore offer the most sustainable habitat." These plants have grown in a particular area naturally since Columbus' exploration to the Americas. Native plants offer shelter and food for wildlife, as well as support pollinators.
In opposition, non-native plants overtake native plants and cause them to die out. This can be harmful to plants and animals because it interferes with the established ecosystem and threatens to throw it off balance, killing many plants and animals as a consequence.
Resources to Identify Native Plants & Butterflies in Nature
Here are some great resources to help you as you are exploring in your area: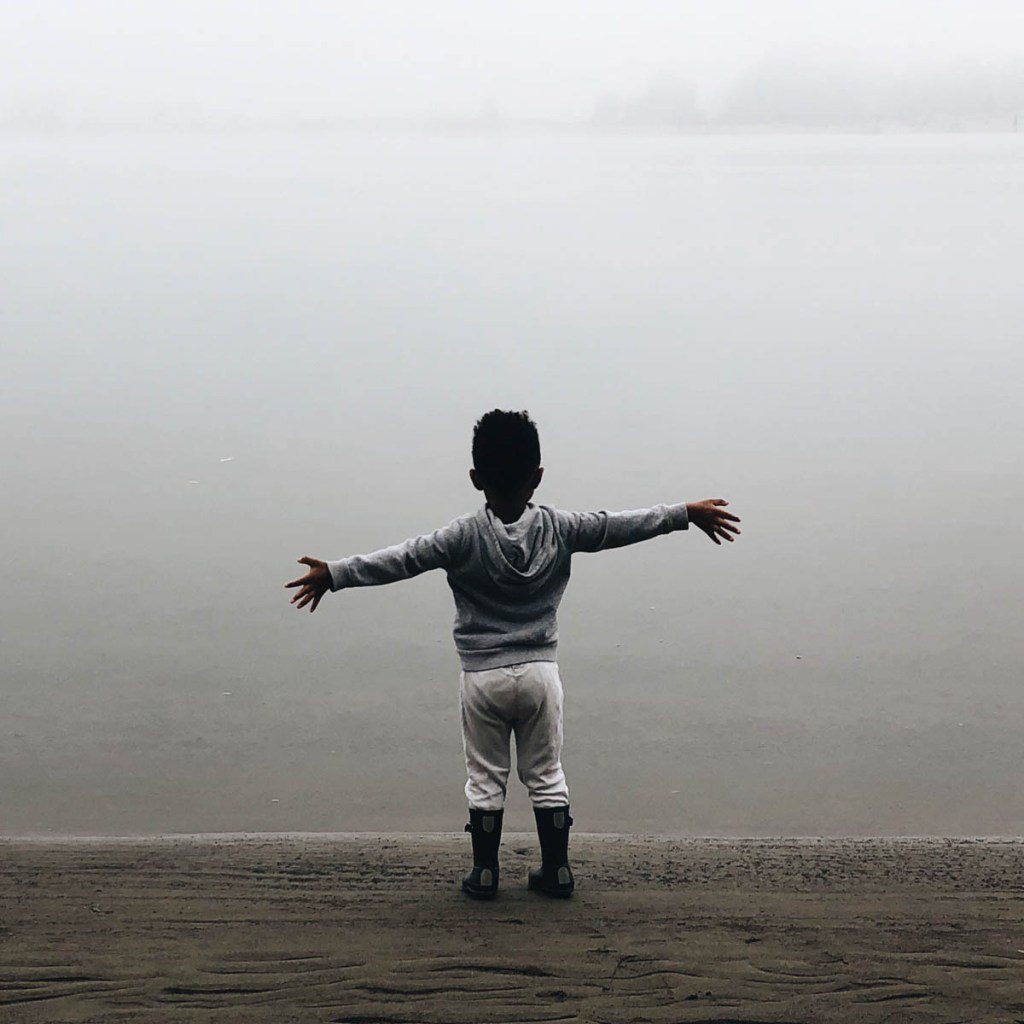 7. Study Weather
One of my students' favorite units that we cover in school is weather. Kids love having the opportunity to make simple observations and read the different tools that we have set up. Learning to use a weather thermometer, a rain gauge, barometer, and a other exciting tools are life-skills that can come in handy later. A digital weather station is another great option. Practicing this skill can even help them to decide what to wear as they get dressed each day.
This experience can be as simple as recording your observations daily on a chart. After you've done this for a while, you will start to identify an overall change as the seasons progress from one to another. It can take less than ten minutes each morning and might be a useful activity before or after breakfast. Many tools can be set up just outside a window.
Mystery Science is an excellent resource that has engaging experiments for kids. I used this website in the classroom at the recommendation of a colleague. One of my favorite experiments guided the kids to learn about storms forming over warm water. We had an excellent discussion about hurricanes with the students in the little beach town where I taught.
Read about Natural Disasters
Many kids are fascinated by natural disasters and really enjoy reading about these weather phenomenons. Lauren Tarshis' series I Survived is a great way for kids to learn more about events like The Japanese Tsunami in 2011, Hurricane Katrina, the volcano destruction in Pompeii as well as Mount St. Helens, the Joplin tornado in 2011, and the Children's Blizzard in 1888. Tarshis is a fantastic author and we highly recommend her books!
8. Visit a Plant Nursery
Out of all these outdoor activities for kids, visiting a local plant nursery can be beneficial for a number of reasons. First of all, there is a lot to learn just by walking around! Everything is labeled and includes information like the scientific name of the plant, where it would grow best (sun, shade, or a combination), and the type/amount of water it would tolerate.
You can help support your local plant nurseries and purchase a few plants native to your area for your yard. You're supporting a small business, plus these smaller locations are more apt to sell native plants as opposed to some of the big box stores. Hopefully, by this point, I have convinced you of the importance of native plants!
Kids love to be part of something, and growing and caring for plants that serve a great purpose to your yard's ecosystem would help them to feel included. Plus, getting your hands in the dirt just feels good!
Find a Plant Nursery
If you are searching for a plant nursery near you, The Lady Bird Johnson Wildflower Center is a helpful resource that allows you to search for a supplier using your zip code. They also list local seed companies, landscape professionals, and environmental consultants!
PlantNative.org has the most helpful list I can find because it is more thorough. They are one of the few resources available for this purpose! It's not the most user-friendly website because it simply gives you a list of every nursery in your state, but it doesn't take too long to scroll through it and find a town familiar to your area.
Your local Native Plant Society will likely share a comprehensive list of native nurseries.
If you live in Florida, the Florida Association of Native Nurseries is also a fantastic resource.
9. The Nature Notebook Series for Outdoor Activities
A friend of ours, Kelly, has recently taken on an incredible project where she republished a fantastic series of notebooks that help kids enjoy some engaging outdoor activities and interact more with nature. Here is more information about it in her words: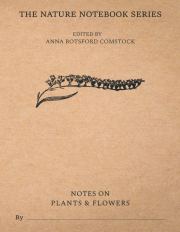 The Nature Notebook Series was created by beloved scientist, professor, author and the mother of nature-study herself, Miss Anna Comstock of Cornell. She published the notebooks in the early 1900's, but they were never printed again after their first printings.
Now, over one hundred years later, HearthRoom Press has set out to republish these works and make them available for the modern student. So far that has included Notes on Common Animals, Notes on Birds (Book 1 & Book 2), Notes on Plants, Notes on Composite Flowers, Notes on Fishes, and others!
Anna Comstock is well known among educators for her publication, The Handbook of Nature-Study for parents and teachers. These newly republished notebooks, however, are for the student. Each notebook has several illustrations, some prompted forms for the student to fill in, and space for the student to draw, also.
The Handbook of Nature Study is available on the Internet Archive, and it would be wise to look over the first chapter of the book to learn exactly what nature-study is, and what it isn't. Comstock's method is valuable in many ways, encouraging slow observation, joint investigation, and a love and connection with the world around us.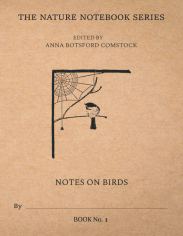 10. Take the 1000 Hours Outside Challenge
Recently, I came across the Instagram account @1000hoursoutside. Ginny, the genius behind the account shares informative stats and figures regarding the benefits of outdoor activities for kids. It's encouraging and inspiring! So, we have taken the 1000 hours outside challenge.
The website shares that the purpose is to simply get kids outside more because "the amount of time kids spend outside 'actually matters.'" There is no pressure to follow strict rules or to obsess over details. As long as you and your family enjoyed the time you spent together outside, then you have succeeded!
It has been a joy to watch my son explore our little backyard these last few months. As a family, we frequently embark on "an adventure" to a local park in our area to do some hiking. I love to see him watch the trees and we often stop to feel its bark or smell some flowers. If I can keep him from eating it, he seems to really enjoy the smell! These memories have been precious. Both my husband and I have said that our intentional time outdoors together has helped us to grow closer to one another; we have learned our son's personality and watched his excitement and enthusiasm grow. It has been a blessing!
Download their tracker and tag them on Instagram! It's been a fun and encouraging community to be part of so far.
Picture Books to Pair with Your Outdoor Activities for Kids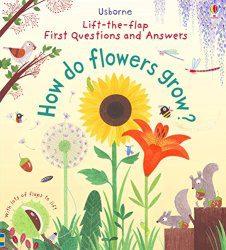 "This stylish, highly illustrated, interactive book is perfect for sharing with young children, and introduces science using a friendly lift-the-flap format. A great introduction to one of the fundamental themes of biology, perfect for curious young minds."
Appropriate for ages 3 and up.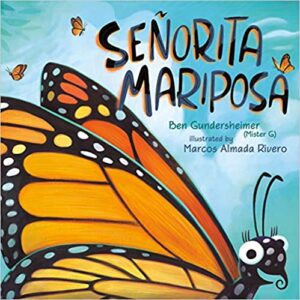 "A captivating and child-friendly look at the extraordinary journey that monarch butterflies take each year from Canada to Mexico; with a text in both English and Spanish."
For ages 3 – 5.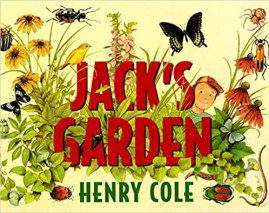 "Building on a rhyme that will be familiar to many children, author-illustrator Cole creates an enticing guide to creating a garden. 'This is the garden that Jack planted…' The final illustration presents a satisfied-looking boy surrounded by a lush, bird-filled flower garden….A concluding page of gardening suggestions serves as a springboard to books with more specific guidelines."–Horn Book.
For PreK – 2nd grade.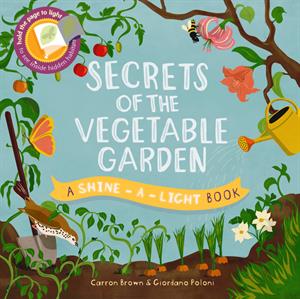 "A vegetable garden grows under the sun. If you look closely between the stalks, beneath the leaves, and under the soil, you will spot the animals and plants living there. Hold a page up to the light to reveal what is hidden in and around the vegetable garden, and discover a small world of great surprises."
Appropriate for ages 4 – 8 years old.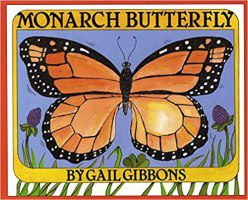 "From egg to caterpillar to butterfly, the story of how they live."
For ages 4 – 8.
Nesting
Written by Henry Cole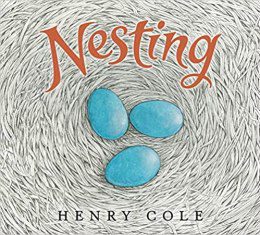 "In this black-and-white picture book highlighted with robin's egg blue, the reader will follow two robins as they build a nest with twigs and grass. Then mother robin lays four beautiful blue eggs and will keep the eggs warm in the nest until they hatch into four baby robins. The father robin protects the babies until they can fly on their own. The perils the babies encounter are many, including snakes and storms. The nest is always their safe place."
For ages 4 – 8.
"An imaginative nature-themed activity book for young children, packed with different things to do. As well as lots of coloring and stickering, there are mazes, spotting puzzles, dot to dot, step-by-step drawing, and lots more. Fascinating facts about animals, plants, insects and different natural environments are incorporated into the activities."
Appropriate for ages 4 and up.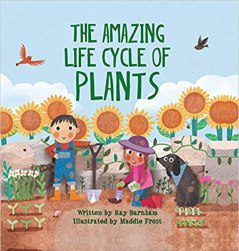 "How do plants grow? Explore the journey from seed to sapling and beyond. Children have lots of questions about the world around them, and this book helps them discover many amazing and wonderful scientific facts about nature. The charming collage-effect illustrations are inspired by farms and scenery that the illustrator sees around her home in New Hampshire. Lively texts engage children and make this book a favorite to return to again and again. There are also Notes to Parents and Teachers at the end to encourage further exploration and learning."
For ages 5 – 8.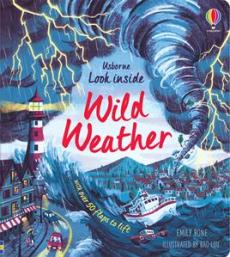 "Discover all kinds of wild weather, from terrifying tornadoes to deadly droughts, in this fascinating information book with over 50 flaps to lift. See a storm raging out at sea, find out how wildfires happen, discover how climate change is affecting weather, and what we can do to help our planet. Includes Usborne Quicklinks to specially selected websites for videos and weather activities to try at home."
For ages 5 and up.
"Brimming with facts, activities, and beautiful illustrations, the National Parks of the USA series of books immerses young people in the wonders of America's outdoors. Learn about the wonderful wildlife, stunning scenery, and rare plants that inhabit these precious outdoor spaces. Celebrate these beautiful and rare locations, and be awed by the diversity and grandeur of the national parks' living landscapes."
Appropriate for kids ages 6 – 9.
"Through luminous illustrations, In a Nutshell explores the life cycle of an oak tree and how it supports life even after it is gone. An acorn drops from a great oak and grows. Animals nibble at it, a fire threatens it, but overcoming many challenges it eventually towers high in the forest, observing the changing human scene below. Eventually its energy passes into many other life forms. An oak tree can teach much about seeds and seasons and cycles―but it also can make us appreciate the challenges it must overcome."
For Kindergarten – 4th grade.
"A dandelion can teach much about seeds and seasons and cycles―and the big world that a wind-blown seed can travel―but it also can make us appreciate the challenges it must overcome. This gorgeous book is at once simple and profound. You may be surprised and pleased by the questions and observations of your children after reading this together."
For Kindergarten – 4th grade.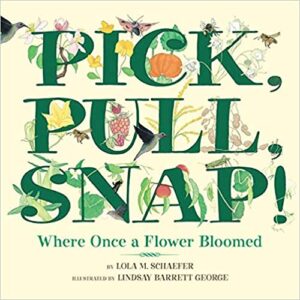 "In the orchard
a honey bee buzzes.
Its legs brush pollen
inside a fragrant
pink flower:
A small green fruit
begins to grow
and grow and grow….
Peaches and peas
and even peanuts —
they all begin with
a single flower:
How?
Open this book
and find out!"
For Kindergarten – 4th grade.
My Year of Nature: Be Creative Every Day
Written by Hannah Dove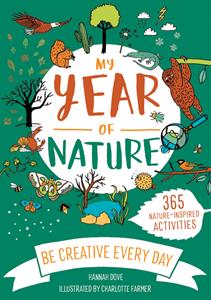 "Readers unleash their creativity while learning about the natural world through bite-sized facts about plants, animals, weather, life cycles, and habitats worked seamlessly into the 365 drawing and writing activities."
Appropriate for ages 8 and up.
Bonus: 100 more creative ideas to inspire outdoor activities for kids!
Gaze at the stars.
Go for a walk.
Use a notebook outside – write down things you are wondering as you make observations.
Go on a picnic.
Set a timer for one minute and make a note of everything that you hear.
Do yoga outside. Feel the earth beneath your feet.
Visit the beach and search for seashells.
Skip rocks on a pond.
Look for leaves and determine which tree it came from.
Search for shapes in the clouds.
Create an obstacle course with found objects.
Go fishing.
Build a sandcastle.
Participate in a trash clean-up with a local community group.
Create art with leaves or other objects you find outside.
Read a book in the park.
Play in the rain! Wear rain boots and splash in the puddles.
Pick wildflowers.
Roll down a hill.
Watch a sunrise and a sunset. Compare the two.
Help pull weeds in your yard.
Set up a sprinkler in the back yard and run around in it like crazy!
Identify different insects that you see outside.
Go camping.
Fly a kite on a windy day.
Enjoy a local festival.
Go kayaking or canoeing.
Visit a U-Pick farm and pick your own fruits or vegetables.
Roast marshmallows.
Create your own treasure hunt for a friend. Write down clues or draw a map to help them find the treasure.
Attend an outdoor concert or event. We go to an outdoor story time at the library!
Build a fort in your back yard.
Practice imitating bird calls that you hear.
Climb a tree.
Observe an ant colony.
Meet a friend at the park to play.
Record the moon phases by drawing what it looks like each night for one month.
Identify birds' nests in the spring time. Do you see any baby birds?
Stand under a waterfall.
Observe a bee pollinating flowers.
Find a spiderweb then draw it in your notebook.
Set up a bat house in your backyard.
Pick a color that you love. Go outside and find 10 things that have that color.
Catch fireflies.
Study a snowflake under a microscope.
Take some deep breaths. What do you smell?
Touch the grass.
Look for dolphins at the beach.
Use a rain gauge to collect rain. Measure and record the amount of rainfall around your home.
Make a snowman.
Go on a hay ride.
Try surfing.
Observe animal tracks on a hike.
Use a map to hike a new trail.
Go for a walk at night and look for nocturnal animals.
Visit a cave.
Watch a live bird nest cam to see baby birds hatching.
Take a picture of a rainbow.
Observe a lightning storm from indoors. Look up pictures of lightning on the internet.
Go snorkeling.
Visit a wildlife sanctuary.
Take a boat tour of a local waterway.
Attend a summer camp for families.
Take a class about the outdoors at a local nature center.
Compare the texture of the bark on different trees.
Observe your shadow at different times during the day.
Find a ladybug. Make a wish before it flies away!
Count the rings inside of a tree trunk. How old is the tree?
Climb to the peak of a mountain.
Adopt a fish from a pet store.
Search for shark teeth in your area. You'll be amazed at the places you can find them!
Purchase local honey.
Observe a hollow space in a tree. Do you think something lives inside? What clues do you see?
Find a dandelion and make a wish.
Hang a tree swing in your backyard.
Start composting.
Catch tadpoles.
Visit a spring and touch the water.
Purchase a mushroom growing kit to learn more about different types of mushrooms.
Go skiing or sledding.
Visit a roadside vegetable stand. Chat with the local farmer.
Pull up a small plant, weed, or tree in your yard and study its roots. Or, grow a lima bean inside of a plastic bag.
Find a fallen tree and draw a detailed picture of it in your notebook.
Draw a map of your neighborhood.
Study a pond, then draw the reflection you see on the surface of the water.
Learn to start a campfire.
Visit a zoo.
Collect acorns from under an oak tree and use them as table decoration.
Search for a 4-leaf clover in the spring!
Collect sand from different places that you visit. Each time you bring it home, add a layer to a jar. Over time you will have some beautiful colors displayed.
Find a bird feather and stick it in your cap.
Go whitewater rafting.
Hunt for snipe. (You might want to Google this one if you don't know what I mean…) It's fun!
Cook a full meal over a campfire.
Milk a cow, or learn about the process and try churning your own butter.
Study endangered or threatened species in your area. Try to find a place to visit where you can observe them.
Dip a small net into a pond. What did you find?
Search for antlion burrows. Measure the size of the burrow, then measure the size of the antlion. Is there a correlation?
Learn about a Native American tribe in your area, then visit an historically marked site to see it in person.
Try rock climbing or bouldering.
Tell Us About Your Favorite Outdoor Activities for Kids!
Use this list of outdoor activities for kids as inspiration to make a plan, spend time in nature with your family, and enjoy its many benefits to the fullest! Imagine the memories you will build and the ideas you will inspire. You are nurturing budding readers, great minds that will one day inspire others.
Do you have any favorite outdoor activities that you enjoy doing with your family? Tell us in the comments!