It's finally time for the school year to begin! Our backpacks are filled with fresh supplies and hopefully that includes a good book. Are you looking for the right story to put in the hands of your 6th, 7th or 8th grader? Look no further than this specially curated list of books for back to school.
*We use affiliate links to share products with you. If you use the link to make a purchase, the cost of the book doesn't go up for you. However, we will receive a commission and we do appreciate your support.
Books in a Series for Back to School
At the start of a school year, I always choose a read-aloud that is the first book in a series. This is one of the best ways to help kids fall in love with reading. It helps them to envision the story more, gives them a common interest among their peers who are sharing the same stories, improves their comprehension, and encourages them to read more. The majority of students in my class who love books can tell me of a series they have read from start to finish! Here are some of my favorites 6th through 8th grade series books for back to school:
Harry Potter by J.K. Rowling
Brian's Saga by Gary Paulsen (Including the popular book, Hatchet.)
Books of Bayern by Shannon Hale
Percy Jackson and the Olympians by Rick Riordan
The Wingfeather Saga by Andrew Peterson
A Wrinkle in Time Madeleine L'Engle
Before jumping into the remaining recommendations of back to school books, I do want to say that I had some difficulty choosing books for this list. I am very honest in the reviews, so I hope that is helpful for you when recommending something to your child.
I also want to add that I am a reader who mostly enjoys middle grade novels. There is a slight distinction between middle grade stories and young adult stories. The content can be slightly edgier and I don't always find that appropriate for a child of any age. As I was researching this, I came across Sarah Mackenzie's explanation for "Why YA is a Genre, Not a Reading Level" (Podcast #132). Please check it out because I feel she put into words exactly what I was thinking!
Please remember that at some point your child will come across content that you might not deem appropriate for them. Make this an opportunity for good conversation. Help them to discern what is right and how to make wise decisions on their own. They can make these decisions based on your frequent book conversations.
With that said, please enjoy our list of back to school books!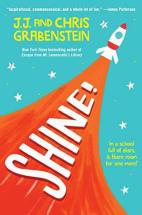 Shine is about a young girl named Piper whose father lands a new job as a music teacher at a local prep school. Since he is working there, she gets the privilege of free tuition. And so begins the adventure of going to Chumley Prep.
Attending as a student makes Piper nervous because Chumley Prep has a reputation for being a very posh private school with incredibly talented students. She doesn't see how she might fit in. However, she always has a positive attitude about the new experience and is very supportive of her father.
Another one of Piper's unique traits is the kindness that she shows to others. She has a way of stepping into situations and finding a way to help when others might not have even considered doing so. I like how Chris Grabenstein shows this trait in subtle ways throughout the book. These little scenes make for some constructive conversations to have with your own children.
In a class assignment, students are asked to consider, "Who do you want to be? And not when you grow up. Right here, right now." She mulls over her answer all while growing in her love of science, making new friends, and continuing to find her place in this new school.
If you haven't read anything by Chris Grabenstein, this book is a great start. My other favorites are Escape from Mr. Lemoncello's Library and Welcome to Wonderland: Home Sweet Motel.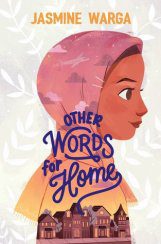 I had the pleasure of listening to this story as an audio book. The main character's name is Jude (pronounced Judah) and she is a beautiful girl seeking to understand two very different cultures.
Her greatest desire is to be an actress. In Syria, she spends countless hours watching Julia Roberts movies and pretending to be famous. This helps her to escape from the unrest of her country, as well as her brother's political involvement in attempts to make things right for their citizens.
Her pregnant mother, along with her father, are seeking to find safety for the women in their family and they decide to move them to America to live with extended family. Here, Jude is exposed to the prejudices of others despite her calm and kind demeanor. Through it all, she makes friends and grows in confidence.
This is a very sweet story that is thoughtfully well written. I love the theme that home can be found in more than one place. Home is the people and the love that they share.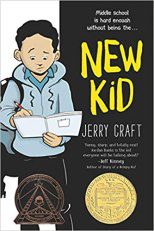 I have taught elementary school for eleven years. My students LOVE graphic novels and I often read the things they are interested in reading. So, surprisingly, this was somehow the first graphic novel that I have read. I can definitely see the draw and why kids love it!
This particular story has a similar to plot to Shine. However, the main character is a boy and it also deals with the theme of racism.
Jordan Banks is starting at a new private school because his mom is insistent that this school can make the difference for him in the future. He is extremely bright and gets in with no problem. After the first day though, he quickly finds that he is in the minority of students in regards to his family's lack of wealth and his race.
I like this book because Jordan is very patient in learning this new way of life. He is a typical kid in that he wants to fit in, but he finds himself struggling between these two worlds. Jordan is a typical kid in that he sometimes argues with his mom, but he is ultimately respectful and willing to give the school a shot. He also has a great relationship with his grandfather, who helps to give him advice in making new friends and accepting others who seemingly have little in common with him.
This book is the first so far in a series. The second book is expected out on October 6, 2020. You can pre-order it now.
This novel is written in verse and has received numerous awards (Newbery Medal), along with great reviews.
The story focuses on a 12 year-old boy named Josh who has a deep passion for basketball. He and his twin brother excel at the sport and are find motivation from their father's fame as a professional player.
In this coming of age story, the boys begin to lose focus of their first joy as they think more about girls and their life at home. Their father is struggling with an illness that grapples for their attention.
This is book one in a series. There is also a prequel titled Rebound, and a book that follows this story: Booked.
I have included this book on the list because I have seen it all over the place. There are excellent reviews for it along with numerous awards (Coretta Scott King Book Award Nominee for Author (2020), National Book Award Finalist Nominee for Young People's Literature (2019). The book also has a unique format, which I find very interesting. In fact, there is a copy of it sitting on the table beside my couch and I'm looking forward to reading it next.
Look Both Ways is a set of ten short stories: one is about each block in a neighborhood. The stories focus on what happens after the dismissal bell rings, which is why I find it appropriate for a back to school reading list. The overall theme is the detours we face on our walk home and in life.
Each story has a different main focus, but they all deal with similar emotions in regards to middle school, including fear, sadness, as well as humor.
I would like to note one review on Commonsensemedia.com. A parent shared that one of the stories deals with a middle school boy being kissed by another boy. This is hopefully a topic that has come up in conversations by the time kids reach this age, but I want to make you aware of the content. Maybe consider skipping this particular story if you feel uncomfortable with it. Or, perhaps, read it together and talk about the story. Either way, I think this could make way for a safe and healthy talk to have with your child.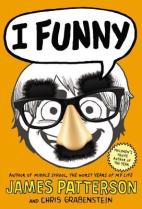 Jamie Grimm is the main character of this hilarious story about a boy who uses a wheelchair and desires to be a comedian. Because of some difficult situations, he is living with his aunt, uncle, and bully cousin in their garage.
Humor is the outlet he uses to make himself feel more confident, as well as gain some friends. With that, his desire in life is to be a "sit down" comedian.
Through some misfortunes early in his life, he perseveres and is able to grow in self assurance. His uncle is a particular help in this as he encourages Jamie to participate in The Planet's Funniest Kid Comic Contest.
This fun book is part of a series of six books!
I hope this list of back to school books encourages you on your adventures these first few weeks of school. There is nothing like a good book to help settle your nerves and encourage you to persevere! This will be a year unlike any we have experienced!
Good luck to everyone on their first days! Work hard and remain positive. You will do great things!
Be sure to check out our other back to school books for:
Kindergarten, 1st, or 2nd grader
3rd – 5th Grade