As an elementary school teacher for eleven years, I was always on the hunt for books to inspire writers. I loved books that were filled with prompt ideas, but I also enjoyed books that outlined the writing process for kids; giving them a behind-the-scenes look at what it took to create a story.
It never failed that most of my students were reluctant to put pen to paper. They had all sorts of excuses and fears around writing, and I totally understood! However, with lots of practice and lots of mistakes, those kids were able to confidently claim the title of "writer" by the end of the year. They took so much pride in their accomplishments and I owe a lot of that success to the books listed in this post.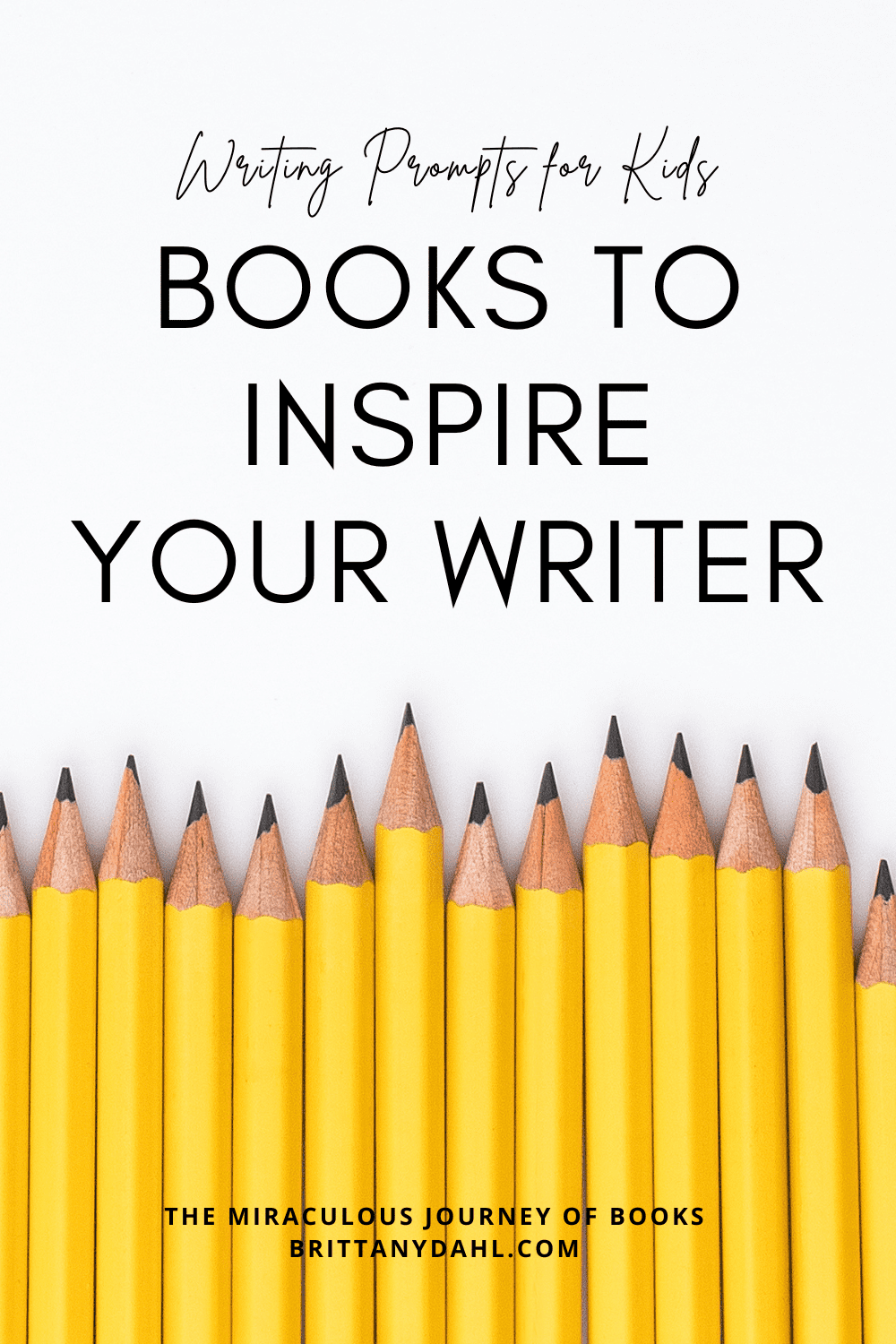 *I use affiliate links to share products with you. If you use the link to make a purchase, the cost of the book doesn't go up for you. However, I will receive a commission and I do appreciate your support.
The proper writing equipment is a must when inspiring your future author. Be sure to find a suitable writing desk for your child from this collection I put together from Etsy sellers. You'll find writing desks, as well as writing tables that are all handmade!
Another essential item to consider is a writing board. These are great for kids who are newly learning to write, as well as those who are perfecting their handwriting, including cursive. I have put together a collection on Etsy of my favorite writing boards to help inspire your young writer.
Writing Contests
In the realm of boundless imagination, young authors eagerly seek platforms to showcase their storytelling skills. Writing contests for kids provide an enchanting gateway that can encourage them for years to come. From local libraries and school bulletin boards (I always had a list of opportunities displayed on mine!) to online platforms and children's literature magazines, the universe of writing competitions offers many opportunities. Besides local sources, I also like to check Reedsy.com as they keep a good updated list of writing contests (for children and also for adults!) that is worth checking out.
The Best Books to Inspire Writers:
Enjoy this list of books to inspire writers. The list is organized by age appropriateness: from books for your youngest writers to the oldest.
In addition to the books on this list, be sure to check out What a Wonderful Word and The Mysteries of Harris Burdick, which I have reviewed separately on the blog. What a Wonderful Word is a collection of words and phrases that are untranslatable. It describes unique words from around the world and helps us to see the wonder of language. And The Mysteries of Harris Burdick, written by Chris Van Allsburg (author of The Polar Express and Jumanji), is a collection of fourteen illustrations, which are each paired with a title and a caption.
For adults, I would also encourage you to read Art Matters: Because Your Imagination Can Change the World by Neil Gaiman. It's a collection of his writings on the importance of reading, writing, and imagining.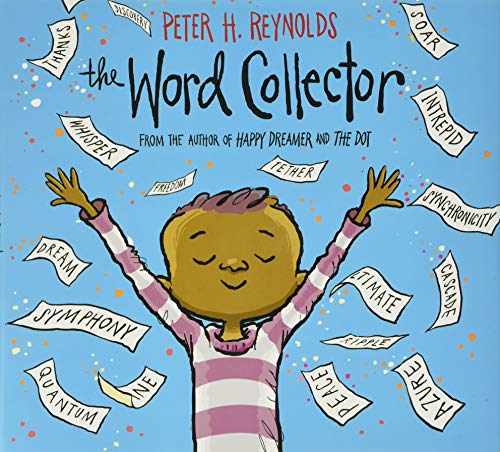 The Word Collector by Peter H. Reynolds is a delightful children's book celebrating words. It follows Jerome, a boy who collects words from all sources, recognizing their beauty and significance. Through vibrant illustrations, the book highlights the magic of language, emphasizing its power to connect, express, and share.
for ages 3-7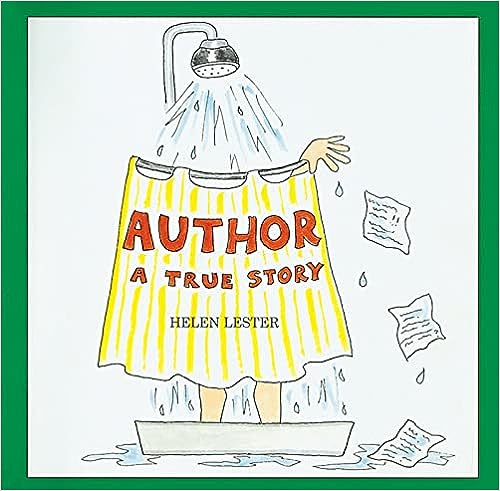 Author: A True Story by Helen Lester is a heartwarming children's book that tells the inspiring tale of a young elephant named Helen Lester. Helen struggles with the challenges of writing, facing self-doubt and criticism. However, with determination and support from a kind friend, she learns to embrace her unique voice and finds the courage to share her stories with the world. This charming and relatable story encourages young readers to believe in themselves, pursue their passions, and discover the joy of self-expression.
for ages 4-7
Idea Jar
by Adam Lehrhaupt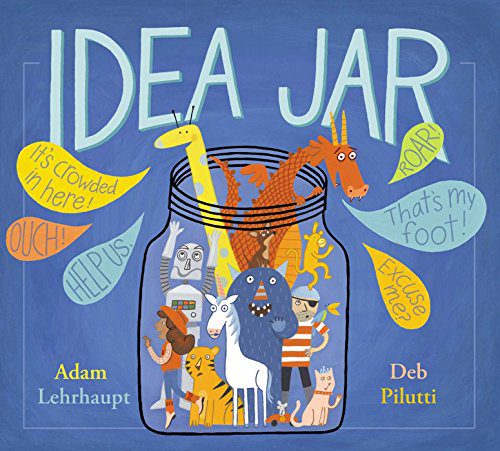 Idea Jar by Adam Lehrhaupt is a delightful children's book that celebrates creativity. In a classroom with a magical jar of ideas, students embark on whimsical adventures. Through playful storytelling and vibrant illustrations, the book encourages kids to embrace their imagination and explore the endless possibilities of their own unique ideas.
for ages 4-8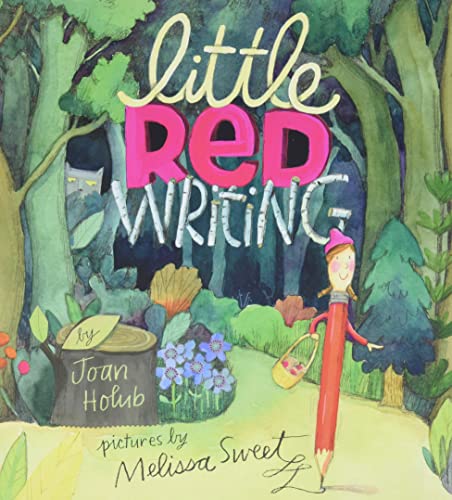 Little Red Writing by Joan Holub is a creative children's book that reimagines Little Red Riding Hood as an adventurous pencil. As she embarks on a writing journey, young readers learn about writing elements while enjoying a clever and engaging story. With playful illustrations, the book encourages both learning and storytelling.
for ages 4-9
My Weird Writing Tips by Dan Gutman is a fun and insightful guide for young writers. Drawing from his "My Weird School" series, Gutman offers practical advice, creative techniques, and humor to inspire budding writers. This book is a valuable resource that encourages kids to embrace their uniqueness and unleash their storytelling potential.
for ages 6-10
The Plot Chickens by Mary Jane Auch is a whimsical children's book that follows Henrietta the chicken as she embarks on a hilarious and imaginative adventure to become an author. With clever wordplay and delightful illustrations, the book inspires young readers and also encourages them to resiliently consider criticism.
for ages 7-9
The Usborne Write Your Own Books series is a creative treasure trove for young minds. Packed with prompts and blank pages, these interactive books empower kids to craft their own stories, unlocking imaginative worlds and fostering a love for writing. Learn to
for ages 8+
Secrets of Storytelling: A Creative Writing Book for Kids by Natalie Rompella is a captivating guide that unlocks the art of storytelling for young minds. Packed with engaging exercises and insights, as well as space to begin writing your own stories, this book empowers children to craft their own imaginative tales while learning essential writing techniques. Ideal for new and experienced writers, it's a source of inspiration that encourages kids to express their creativity and become confident storytellers.
for ages 8-11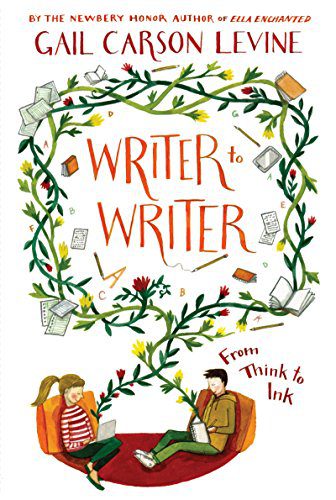 Writer to Writer: From Think to Ink by Gail Carson Levine is a must-have guide for young aspiring authors. With wisdom and practical advice, Levine takes readers on a journey from idea to finished work, offering valuable insights into the writing process. This book is a trusted companion that empowers kids to develop their writing skills and turn their creative thoughts into compelling stories. Much of the information is pulled from her blog, but I love having it in one cohesive place in this published work.
for ages 8-12
Words with Wings by Nikki Grimes is a lyrical and poignant children's book that explores the power of words and imagination. Through evocative poetry, it follows Gabby's inner world as she navigates the challenge of escaping her parents' arguments. Inspired by a teacher, she captures who wandering thoughts and begins to poetically write them down. The book beautifully captures the transformative nature of language and encourages young readers to embrace the magic of self-expression.
for ages 8-12
Journal Sparks by Emily K. Neuburger is a vibrant guide that ignites creativity through spontaneous art, wild writing, and inventive thinking. Bursting with playful activities and inspiring prompts, this book encourages readers to embark on a colorful journey of self-expression. Create and write directly into the journal as it is a dynamic resource that sparks imagination and helps both kids and adults unlock their artistic potential.
for ages 9-12 (advertised as being for "anyone 10 to 100!")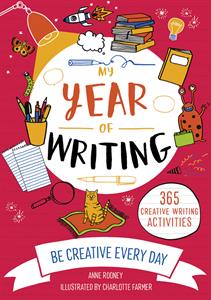 My Year of Writing by Anne Rooney is a motivating and insightful companion for young writers. With a year's worth of practical tips, prompts, and guidance, this book provides a structured approach to honing writing skills. It's a valuable tool that empowers aspiring authors to cultivate their passion and develop their craft throughout the year.
for ages 10+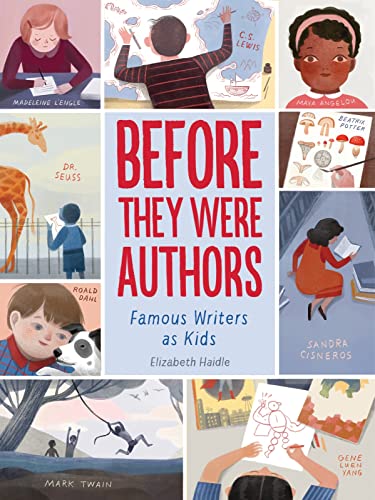 Before They Were Authors by Elizabeth Haidle offers an enchanting glimpse into the childhoods of renowned writers. Through charming illustrations and engaging anecdotes, the book reveals the early lives of literary icons, inspiring young readers while highlighting the beginnings of great storytelling journeys.
for ages 10+
Want More Books to Inspire Writers?
I would love to hear about the books to inspire writers that you have in your home library. Be sure to share about them in the comments below! And don't forget, if you would like some recommendations regarding different books, please be sure to fill out my quick request form to get a list of book recommendations.
Looking for more themed book ideas? Be sure to check out these other book lists: