DecoIf you're anything like me, you understand the magic that books can bring into our lives. As a former elementary school teacher and long-time book enthusiast, I've had the pleasure of helping busy moms discover the perfect books for their kids. Today, I'm excited to share my insights on how to transform your bookshelves into captivating displays that blend the joy of reading with the beauty of home decor. Get ready to embark on a journey of decorating bookshelves with kids' books!
If you are looking for additional design ideas that include affordable, practical, and easy ways to think about the rest of your home, be sure to check out these 8 Simple Design Tips.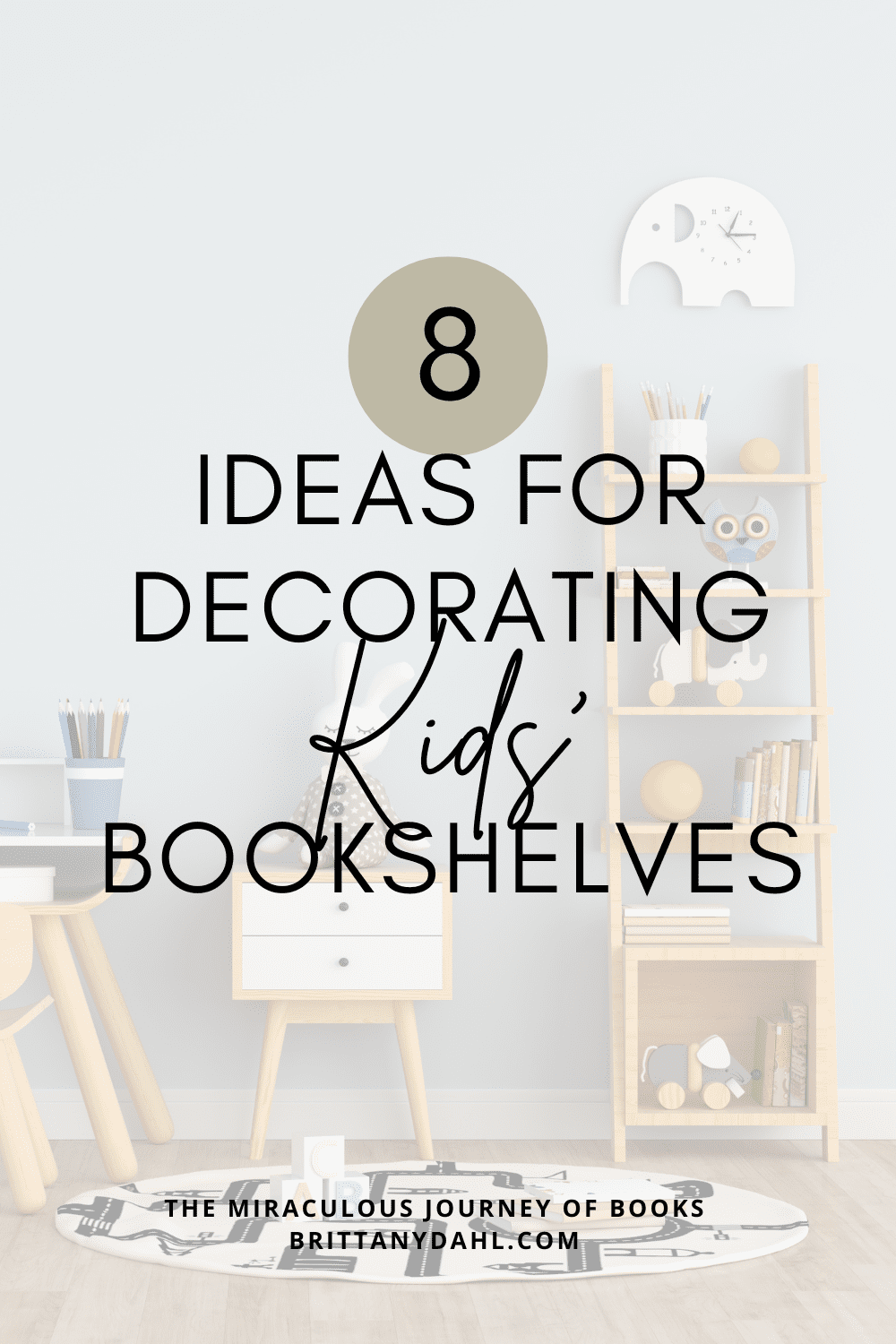 I use affiliate links to share products with you. If you use the link to make a purchase, the cost of the book doesn't go up for you. However, I will receive a commission and I do appreciate your support.
Decorating Your Kids' Bookshelves with Intention: Organization

Picture this: a bookshelf organized not just for convenience, but also as a delightful visual experience. By grouping books based on age and genre, you'll not only make it easier for your kids to find their next adventure but also create an organized and appealing display. Imagine having dedicated sections for different age ranges and genres, all with your child's interests in mind.
One way we do this is by having a basket of baby books in the kitchen and also in our living room. My daughter knows this area is especially for her and she gravitates towards it when we're in either room. She also has one shelf dedicated to her in the bedroom she shares with my son. I've added age appropriate books that are interactive to hold her interest.
A Splash of Colorful Charm
Remember those vibrant classrooms we used to love as kids? Let's bring that same energy to our bookshelves! Arrange books by color to infuse a burst of vibrancy into the space. Whether you opt for a rainbow spectrum or a harmonious color palette, this approach turns your bookshelf into a masterpiece that seamlessly fits into your room's decor.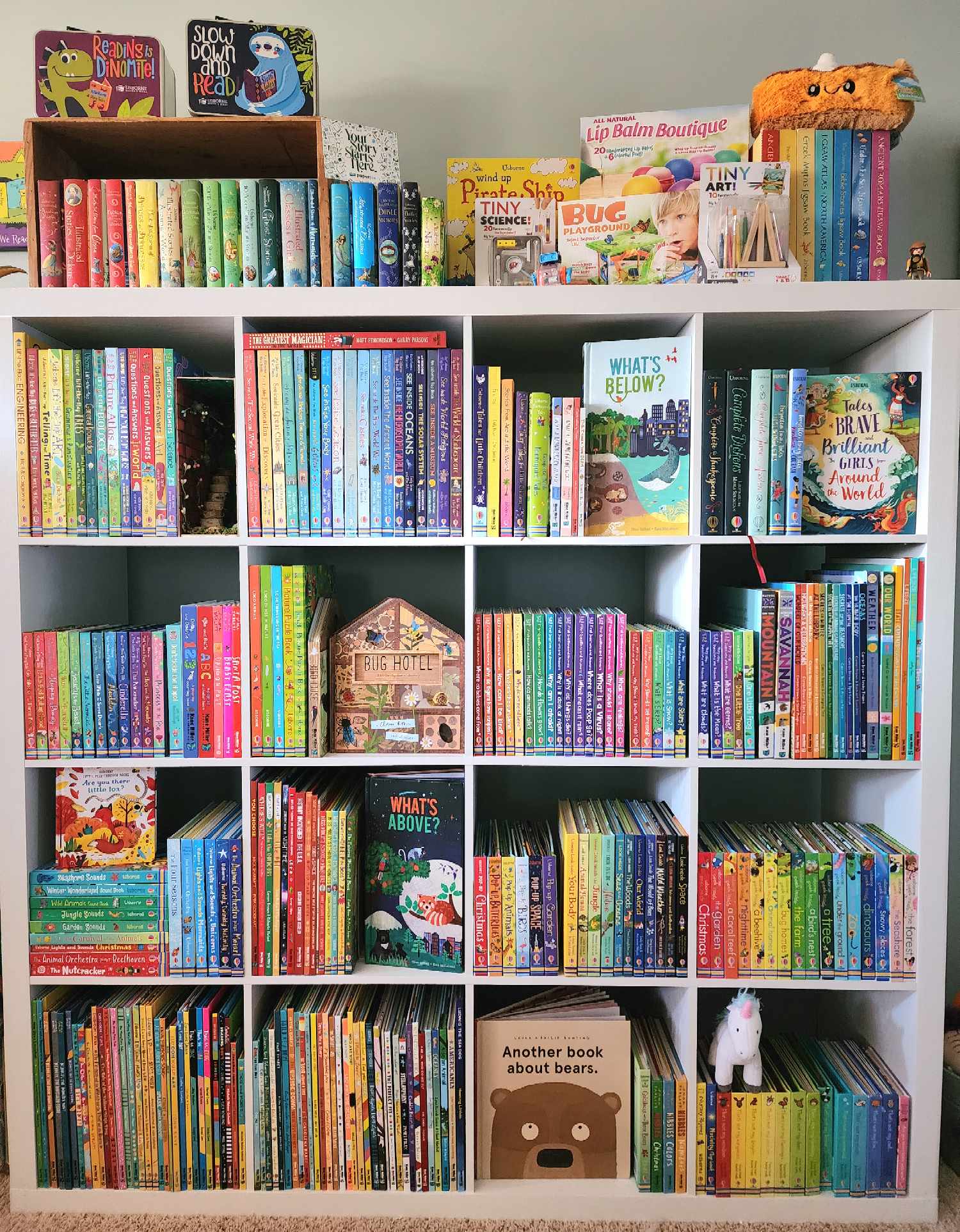 This image is from one of my friends who is a Brand Partner with PaperPie. She (and I!) have earned tons of books for free and half priced just for working out own business. If you have any desire to have a bookshelf similar to this one, contact me using the contact form on the website or read more about it on PaperPie's website.
Themes that Spark Imagination
As moms, we know our kids' interests like the back of our hands. Why not create themed sections that align with their passions? Whether it's nature, the arts, sports, or space exploration, curating these themed pockets on your bookshelf makes finding the perfect book an exciting journey for both you and your child. This type of design also allows you to switch up the books as their interests change!
Little Details, Big Impact
It's the little touches that make our homes special, right? Incorporate decorative bookends to keep things tidy and stylish. Sprinkle in figurines, toys, or educational objects that reflect your own experiences and your child's interests. These accents add a personal touch and elevate the overall look.
You can find a large selection of bookends that you can personalize on Etsy. I especially love this letter and rainbow pairing from Amberland Wood Gifts. You can find dragons and many other options available in their store!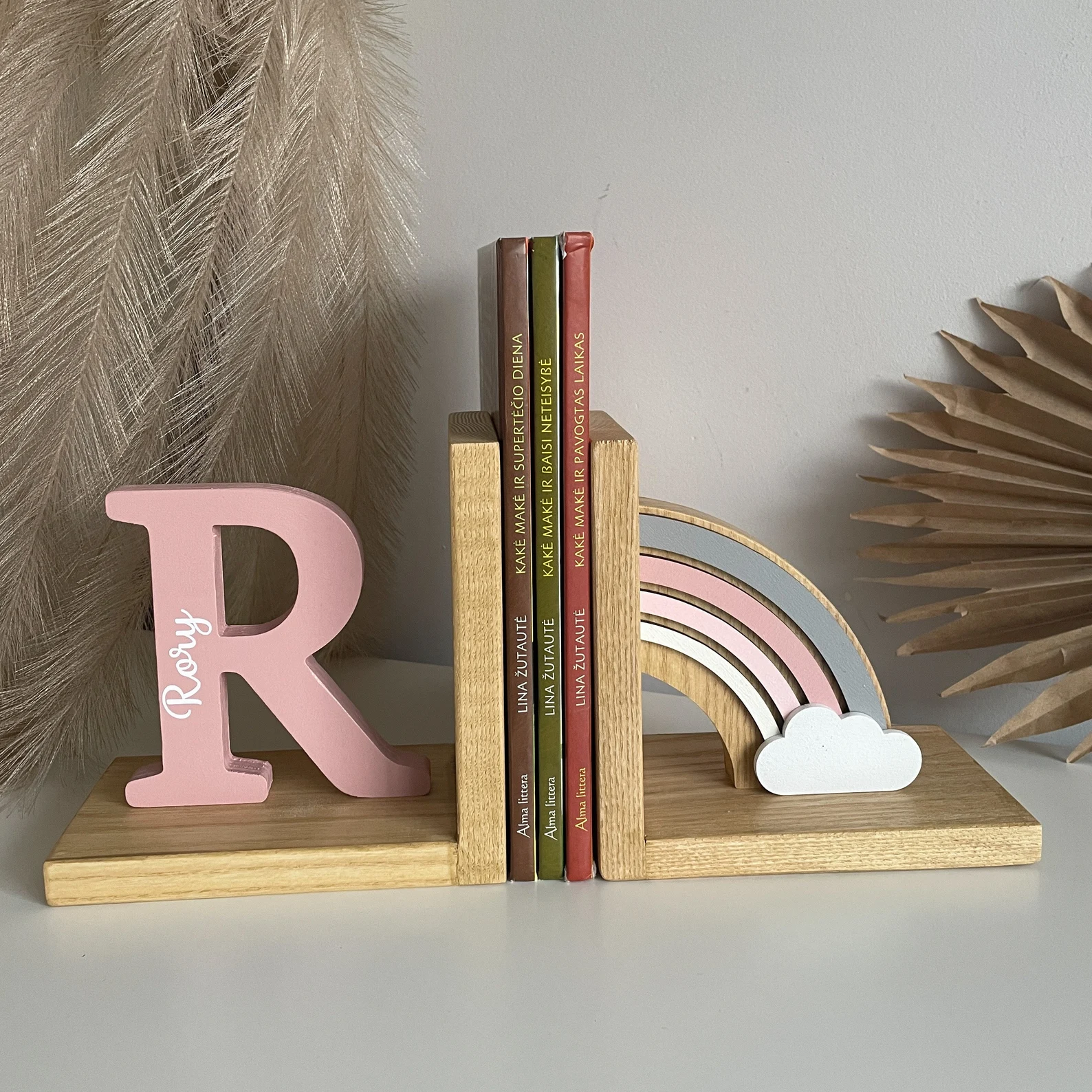 A Seasonal Spin on Learning
As a former teacher, I've always loved the excitement that comes with changing seasons. Let's channel that enthusiasm into our bookshelf displays. Rotate books based on seasonal or educational themes, fostering a love for learning that's both engaging and enjoyable.
Touches of Nostalgia
Why not infuse a bit of classroom nostalgia into your home? An alphabet block or a mini chalkboard can create a warm and familiar ambiance that resonates with both you and your kids.
I love this sweet Corduroy bear that has been hand knit from Gayla Knits on Etsy.
Space to Breathe while Decorating Kids' Bookshelves

In our busy lives, a little breathing room goes a long way. Leave space between books and objects to create an open and inviting feel. This negative space enhances the overall aesthetic and prevents overwhelming clutter.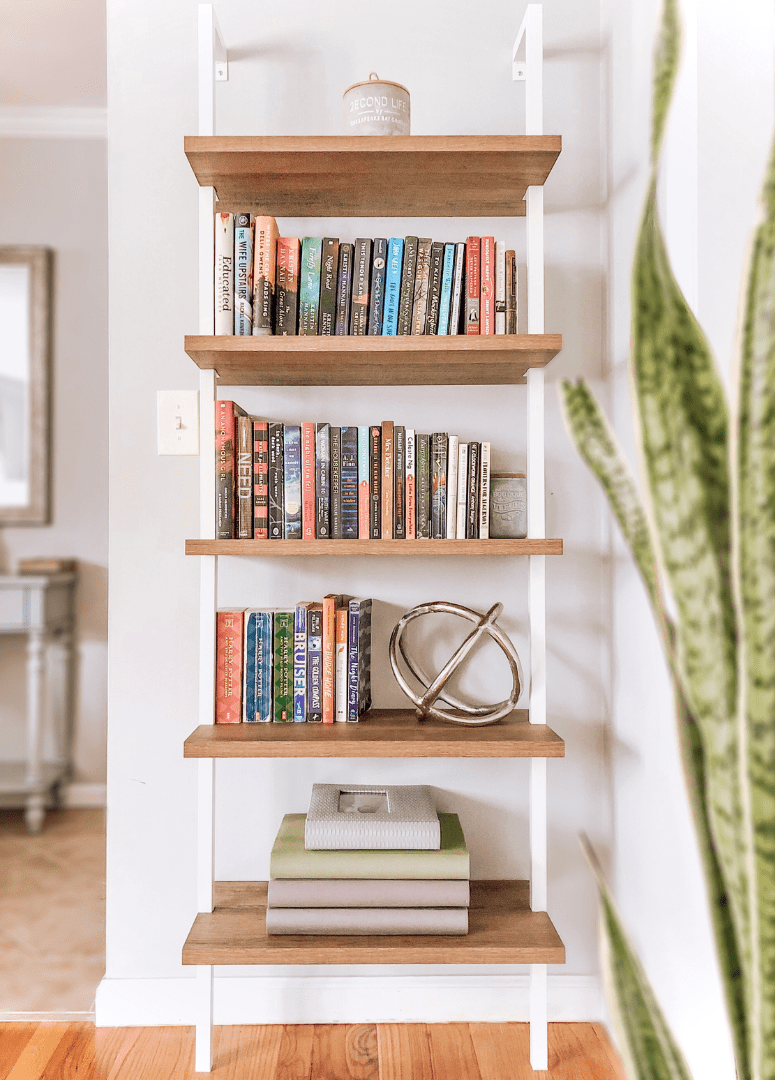 Cozy Reading Corners
Creating a cozy nook within your bookshelf is like giving your child a personal haven for reading adventures. Lower shelves adorned with soft cushions invite kids to dive into stories, making reading time a cherished ritual.
Check out my free resource that includes design tips especially for a reading nook! You'll love having this cozy space to read in your home.
Decorating Kids' Bookshelves: A Constant Journey of Discovery
Just like our kids' learning journeys, our bookshelf displays can evolve. Regularly update the selection to stay in sync with trends, popular titles, and changing seasons. This keeps the bookshelf alive and encourages ongoing exploration. Feel free to request a list of personalized book recommendations that would be a great fit for your reader. I'm happy to send over a list of ideas during our next nap time!
As fellow busy moms, we have the power to create enchanting bookshelf displays that reflect our children's interests and our own passions. By blending organization, creativity, and a touch of nostalgia, we can curate spaces that are as captivating as they are functional. Here's to transforming our bookshelves into vibrant stories waiting to be explored. Happy decorating and happy reading, dear friends!